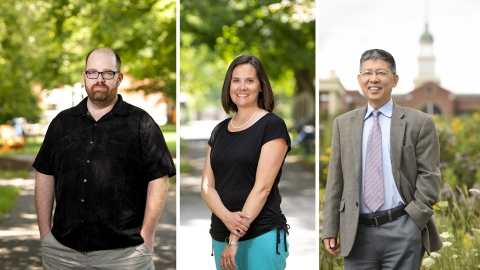 Bucknell University Named Top Producer of Fulbright U.S. Scholars
March 7, 2022
The Bucknell experience isn't limited to Lewisburg. Professors and students regularly travel abroad to pursue their curiosity, dig deeper into research, teach others and make an impact on the world.
The latest group of globe-trotting Bucknellians includes professors working in Cyprus, Costa Rica and Australia and a recent graduate conducting high-level physics research in Austria. Each applied for and received a prestigious Fulbright Award, helping Bucknell earn recognition from the U.S. Department of State's Bureau of Educational and Cultural Affairs. Each year, the bureau announces the top-producing institutions for the Fulbright Program, the U.S. government's flagship international educational exchange initiative.
Bucknell topped the list for scholar awards as one of only four baccalaureate institutions receiving three awards.
This recognition serves as a testament to the caliber of faculty scholarship and teaching found at Bucknell, led by academics whose curiosity leads them out into the world, allowing them to promote mutual understanding between cultures and countries, while bringing global insight, practice and knowledge for the benefit of their students.
"Bucknell's success in the Fulbright Scholars program underscores the excellence of our faculty and students, who, supported by an amazing staff, thrive together in a learning community that encourages discovery and innovation that makes a difference — on the individual, institutional and global level," says Provost Elisabeth Mermann-Jozwiak.
Bucknell's Fulbright Scholars are currently pursuing their research in alignment with the Fulbright mission of enhancing mutual understanding.
Professor Lara Dick, mathematics, is conducting research on the island nation of Cyprus, exploring how math teachers can use technology to help students learn more effectively. Upon her return to Bucknell, she plans to share videos of Cypriot students as illustrations of different observation, interpretation and instructional decision skills to the prospective teachers in her classes.
Professor Nathan Ryan, mathematics, is currently in Costa Rica teaching college-level computational mathematics, researching number theory and collaborating on outreach projects to bring mathematics to local schoolchildren. This is Ryan's third Fulbright; he traveled to Ecuador in 2017 and Uruguay in 2009.
Professor Zhiqun Zhu, political science and international relations, is preparing to travel to Queensland later this spring to study Australia's relationship with the United States — its primary security partner — in the context of China's rise as a global power, specifically with regard to trade. His return to Bucknell will find him incorporating his research into his curriculum as he strives to ensure that students have an up-to-date picture of the global landscape.
Unpacking Gravitational Mysteries
In addition to three professors, one student was also named to the prestigious program for the 2021-22 academic year.
Sarah Butler '21 is currently conducting research in Vienna, Austria, preceding her pursuit of a Ph.D. at Yale, where she has been accepted to study high-energy physics following the completion of her Fulbright year abroad. Butler is working with Markus Aspelmeyer, an accomplished quantum physicist who is studying whether gravity has a quantum description. Together, they are examining microscopic particles to see whether a gravitational force can be detected.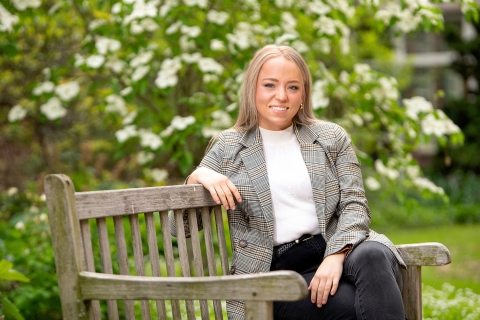 The Fulbright program as a whole continues to shine light on the University's outstanding academics, with this year's faculty recognition following the four student Fulbright award winners who were named last academic year.
The Fulbright Program was established to increase mutual understanding between the people of the United States and other countries. Fulbright is the world's largest and most diverse international educational exchange program, funded through an annual appropriation made by the U.S. Congress.
Since its inception in 1946, more than 400,000 people from all backgrounds — recent college graduates, teachers, scientists and researchers, artists and more — have participated in the Fulbright Program. Fulbright alumni have included 40 heads of state or government, 61 Nobel Laureates, 89 Pulitzer Prize winners, 76 MacArthur Fellows, and countless leaders and changemakers who carry forward the Fulbright mission of enhancing mutual understanding.