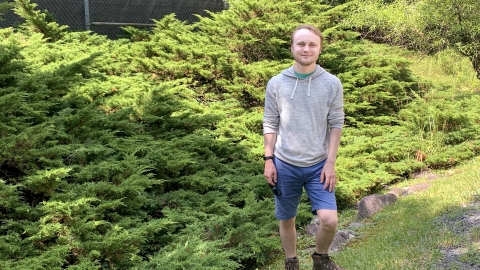 Engineering Faculty & Staff Go Above and Beyond to Help Senior Design Students Deliver
July 17, 2020
As an aspiring engineer, Ryder Nance '20 couldn't wait for his chance to imagine and construct a product for a real-world company as part of the College of Engineering's senior design experience. But when the time to put his skills to work finally came, he was surprised to find himself doing much of that designing, building and testing from the garage of his home instead of Bucknell's state-of-the-art labs and makerspaces.
That's because the electrical engineering major was one of many senior design students challenged to adapt when Bucknell transitioned to remote education in response to the COVID-19 pandemic. Thanks to a coordinated effort by engineering faculty and staff to ship materials to students, Nance's project team was also among the dozens of groups that were able to continue partnering with their corporate clients remotely and deliver a successful product by the semester's end.
"At first, we weren't even sure that senior design was going to continue at all, which was a bummer because the hands-on experience of building is what's always drawn me to engineering," says Nance, who hails from Bryn Mawr, Pa. "But it so was comforting to have a whole network of professors and lab directors who were still working on campus to keep us going."
Efforts to supply students with the components they needed began almost immediately after the University suspended in-person classes in March. It was a feat largely undertaken by electrical & computer engineering laboratories director Matt Lamparter, who works closely with the senior design courses to source parts and assist with prototyping. For nearly two weeks following spring break, Lamparter coordinated with faculty across the College of Engineering to identify, gather and ship materials and equipment from on-campus labs through the post office in Lewisburg.
"I do a lot of the hands-on fabricating and assembly with students, and to suddenly lose that close interaction with them was difficult," says Lamparter, who disassembled and packaged a full-sized conveyor belt for one project group. "It seemed that one major way I could still provide value was to get them what they needed to move forward with their projects and serve their clients."
Designing from a Distance
As the culminating experience for engineering majors, senior design pairs student teams with external companies to solve authentic industrial problems. The challenge issued to Nance's group by medical manufacturer Perma Pure was to create a device that heats and humidifies the typically frigid air delivered by oxygen tanks, which can dry out the mucosal membranes and increase users' susceptibility to infection.
It was a project that thrilled mechanical engineering major Connor Grigg '20 right away because "from the start, the client really pushed us to build, build, build," he says. "That put us in a good position to have something close to a final prototype before everything shut down because of the pandemic."
Suddenly separated from their equipment and each other, the team was uncertain whether they'd be able to finish the work they'd started — but they were far from ready to give up. With the help of faculty committed to seeing them succeed, Nance received nearly all the materials he needed to put the finishing touches on the prototype, including thermal regulators, a heat sealer and an oxygen concentrator sent to his home by the group's adviser, chemical engineering professor Margot Vigeant. What came next was a weeks-long testing process that required the Pennsylvania native to find creative ways to accomplish by himself what had previously required four sets of hands.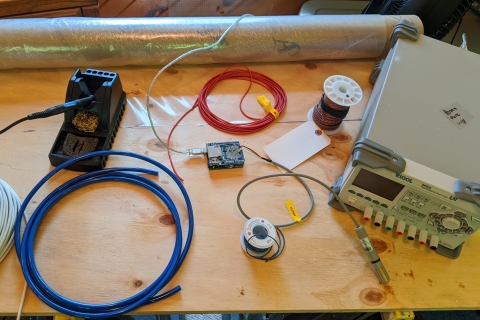 "Not having everyone in the same room for testing was probably the most difficult part, since the only way my teammates could contribute to making corrections was over Zoom," says Nance, who met virtually with the group nearly every day to run tests on the device. "Despite that hurdle, we were impressed by how much we were able to do remotely. It turned out that we were actually beating the numbers that we expected to get by a pretty significant margin."
When the group presented their functioning humidifier to Perma Pure during a virtual presentation in May, Griggs says he was proud to hear that their product had not merely met the company's expectations but had far surpassed them.
"At that point, it wasn't about getting a good grade or doing enough to meet the requirements — it was about finishing what we set out to do and producing something that would help people in the long run," he says. "The opportunity to bring together all the skills I've learned over four years and apply them to something significant is why I chose to study engineering at Bucknell. I'm glad to have created a product that a company can run with and will hopefully make it to market in the next few years."