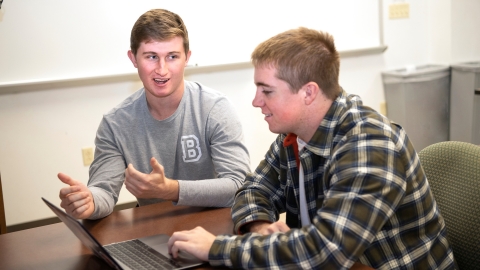 Freeman Fellows Help First-year Management Students Hit the Ground Running
November 11, 2019
Robert O'Neill '23 says he's the sort of person who "likes to get up and go — right out of the gate." The first-year finance major from Blauvelt, N.Y., is already anticipating declaring a double major in political science, has an internship lined up for winter break, and is planning ahead for a study-abroad experience at the London School of Economics. O'Neill knows what he wants to pursue, but as a first-year student who's still learning all that Bucknell and the Freeman College of Management have to offer, it helps to have a guide.
Enter Connery Mayer '21, a finance major from Newtown, Conn., who has been helping O'Neill navigate the ins and outs of life on Bucknell's campus since before his classes even began. The pair connected through the Freeman Fellows Program, a new initiative within the Freeman College in which each incoming first-year management major is matched with a mentor from the junior or senior class. 
"You know that you have an automatic relationship with at least one upperclassman in your college and that you share a specific interest in management," O'Neill says. "It's a really good way to immerse first-year students in Bucknell and the Freeman College of Management."
The program began three years ago as a one-semester teaching-assistant and mentoring program for Management 100, an introductory course that all Bucknell management majors take in their first semester on campus. This year, with support from Freeman College namesake Ken Freeman '72, the program has expanded to enable mentoring throughout the entire academic year. It not only helps incoming students get oriented to life at Bucknell — with outreach beginning as soon as incoming students commit to Bucknell in May — but continues by encouraging first year students to explore opportunities beyond the classroom and forge relationships within the broader community once they arrive on campus.
"Bucknell has so many great resources on campus that it's almost impossible to know them all by yourself, especially as a first-year student," says Sam Ritter '20, an accounting & financial management major from Long Island, N.Y.
"We share what's going on in the college and management that week — like if there's a speaker, or an opportunity to sign up for an internship," adds Arianne Evans '20, a Freeman Fellow mentor and managing for sustainability major from Laguna Niguel, Calif. "There's a lot that you can get involved with, not only in the Freeman College of Management but at Bucknell as a whole. We remind them that they're in a big, rich environment of opportunities, and that they can take the skills they're learning and apply them in many different settings."
The advice the fellows offer goes beyond the academic. O'Neill says he's asked Mayer for advice on everything from finding internships and the classes he should take each year to more personal questions about meeting new friends and social opportunities in his first weeks on campus. For Mayer, the program has also offered a chance to pay forward the help he received as a first-year management student.  
"I personally felt like I gained a lot as a student from other students, and I want to reciprocate that," Mayer says. "It feels good to be the one giving answers and helping others as a mentor. I take pride in helping others achieve their goals."
The program adds to an array of initiatives that support Freeman College students and help them discover new careers and real-world applications for their education, including networking and travel opportunities afforded by the college's Center for Experiential Learning and the Bucknell Mentorship Program, which pairs first-year students with advisers at leading investment, accounting and consulting firms, including Goldman Sachs and Deloitte. 
These Freeman College initiatives are open to all Bucknell students and add to additional University-wide advising programs, including the T.E.A.M. Mentor Program, graduate school advising and the comprehensive internship and lifelong career advising offered through Bucknell's Center for Career Advancement.
With help from his Freeman Fellow adviser, O'Neill is already taking advantage of some of those opportunities. He's found another mentor in Nick Palmer '17, a trading analyst for Goldman Sachs who's helping O'Neill explore additional internship and study-abroad opportunities. 
"If it weren't for the Freeman Fellows program, I'd never know who he is," O'Neill says.