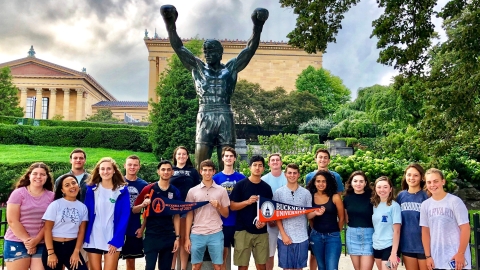 Fresh Pre-Orientation Programs Offer Greater Opportunities for Connection and Exploration
April 8, 2022
Transitioning to college could've been an overwhelming experience for Simbi Maphosa '23. As an international student from Zimbabwe, Maphosa had to navigate immigration documents, cultural differences and learning the layout of a campus she'd mostly seen in pictures ⁠— on top of making new friends.
Bucknell's Global Connections, Cultures & Community (GC3) Pre-Orientation program helped her conquer all of it.
"The moment I arrived, the Pre-O leaders were looking after me. I remember they gave me pillows, which I didn't have because I couldn't carry them onto the plane with all of my other belongings," says Maphosa, a biomedical engineering major. "GC3 really helped me get oriented in this brand new place and made it easy to build a support system right away. It's definitely one of the biggest highlights of my time at Bucknell."
Designed for first-year students, Pre-Orientation programs provide unique opportunities for incoming Bucknellians to settle into the University community, build relationships with classmates and jump-start their college career through skill-enhancing activities. The optional programs take place before New Student Orientation, giving those who opt in a chance to get involved before day one.
This fall, three fresh Pre-Os will join the lineup of offerings, bringing the total number of programs to nine. Developed and led by faculty and staff in the Freeman College of Management, these Pre-Os will take students beyond Lewisburg to explore industries and connect with alumni in nearby cities and states.
Exploring Social, Environmental & Economic Justice in Appalachia, Aug. 12–Aug. 16

Students will travel to southern West Virginia to dig into the history of coal regions, examine grassroots community and business development in economically challenged areas, and gain perspective on similar Pennsylvania landscapes through service-learning projects.

First Stop: Independence!, Aug. 12–Aug. 16

Students will enjoy a private, curated itinerary as they meet with industry leaders in technology, real estate and finance — all while exploring the culturally rich city of Philadelphia.

Taste, Tech & Teamwork, Aug. 12–Aug. 16

Students will immerse themselves in the vibrant city of Charlotte, N.C., where they'll gain insight into the area's exploding financial technology sector, tour local foodie hotspots and venture into the outdoors.
Going Beyond Bucknell
"If you really want to get to know someone, travel with them," says Missy Gutkowski, who serves as the Freeman College's assistant dean for experiential learning and is the staff coordinator for Taste, Tech & Teamwork. "By setting off on these adventures together, incoming students will get to bond much differently than they would by simply sharing a class or extracurricular."
One of the bonding experiences awaiting students on the North Carolina trip is a visit to the U.S. National Whitewater Center. Comprising more than 1,300 acres of protected land with 50 miles of trails, the center offers rafting, ziplining, climbing and much more.
Similar exciting activities speckle the First Stop: Independence! itinerary. Between stops at major companies such as Comcast and dinners with alumni, students will enjoy an excursion to the Philadelphia Zoo, where a Bucknell graduate sits on the board.
"The Freeman College has forged so many strong relationships with alumni through programs like the Herd Mentorship Program. We wanted to capitalize on those bonds when creating this Pre-O," says says Associate Dean of Management Ivy Kepner, who ran the first Philadelphia trip in 2019 before Pre-Os were paused during the pandemic. "Our goal was to create a program that involves students from all three colleges to engage with our amazing alumni network. And our alums find great enjoyment in investing in Bucknell students, so it's a win-win."
Alumni connections also lie at the heart of the Exploring Appalachia program, which will introduce students to two Bucknellians who have used their managing for sustainability majors to revitalize communities in their home state of West Virginia.
"Jacob '17 and Josiah Hannah '17 are Community College Scholars who came to Bucknell saying, 'We're going to learn as much as we can about sustainable development so we can pour it into our towns and cities back home.' And they did!" says Professor Eric Martin, management. He will lead Exploring Appalachia alongside Professor Neil Boyd, management & organizations.
The Hannahs now work for Coalfield Development, a business incubator that specializes in cultivating socially, environmentally and financially thriving local economies. As students tour new and reclaimed business locations and meet with community members, they'll gain insight into the unique social and fiscal challenges facing coal regions in the U.S. — and see successful solutions being implemented.
"The places we'll visit are not unlike the coal region in Pennsylvania, where Bucknell has intentionally invested resources through sustainability projects," Martin says. "Any incoming student with an interest in social justice, history, alternative energy and more can get something great out of this experience.
"The more interdisciplinary these Pre-Orientation programs are, the better," he adds. "I hope to see folks from all kinds of backgrounds and interests engage."