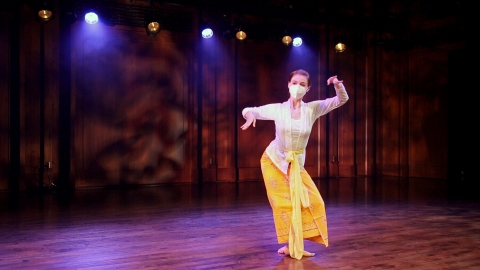 The Show Goes On: Students Share Performance Skills and Passions With the World in Weis Center Sessions
November 9, 2020
As the music starts, Chiara Evans '21 dips her hips and arches her back. Her fingers pulse to the sounds of bells and xylophones. After a few seconds, she steps forward, bobbing her head, hips and hands from side to side like a metronome, and the dance begins.
As Evans turns, twists and slides across the stage of the Weis Center for the Performing Arts, accelerating and slowing her movements in time with the rhythm, she re-enacts a performance she put on at Bucknell set to sounds she encountered at a wedding in Bali, where she traveled to perform with members of Bucknell University's gamelan ensemble the summer after her first year of college.
The scene is much different today. There is no audience, silk-and-gold-clad revelers or sumptuous feast to follow. In fact, the auditorium is empty save for Evans and a few essential staff — but that doesn't mean no one is watching. In fact, she has an audience of well over 100 that's growing every day.
That's because Evans' dance is part of the Weis Center Sessions, an online performance series launched this summer on YouTube by Bucknell's home for the performing arts. As public health protocols have preempted large indoor gatherings amid the pandemic, the videos, which collectively have been viewed thousands of times, have enabled the center to continue its mission of bringing arts and culture to the Central Pennsylvania region. At the same time, the series has given students, faculty and staff a unique outlet to showcase their creativity and talents.
"While we miss gathering together for live performances, we're thrilled with the wide range of artistry that's being shared — everything from Balinese dance to classical piano to Uilleann pipes," says Kathryn Maguet, the center's executive director. "Through this program, we've not only sought to highlight the Weis Center's technical capabilities but also to shine a light on Bucknell's diverse artistic community."
New videos are posted to the center's YouTube channel and blog each Friday, and run a diverse gamut of creative expression, including classical and contemporary music, dance and spoken-word performances.
For student artists, the series offers a chance to continue expressing the passion, creativity and technical precision they've polished at Bucknell while connecting with audiences they may never have reached otherwise.
Replaying the video on her computer screen gives Evans a surreal tingle every time, as her performance is one she could never have imagined giving before she came to college. Trained in ballet from the age of four, the biology major from Natick, Mass., chose Bucknell for the opportunity to study dance alongside her science major. From her very first semester, when she learned modern, African-inspired dances with guest company Urban Bush Women, she was surprised to find herself pushed beyond the boundaries of who she thought she was and what she could do.
"I had thought of myself in a kind of narrow way — like I do one thing and that's why I don't do anything else," she says. "Coming to Bucknell threw that wide open and gave me the chance to say yes, I can do this and this — and this other thing. And they all go together."
A similar sentiment strikes Nora Kamerow '21, a French and creative writing major from State College, Pa., who recalls watching senior creative writing majors perform their work in years past and thinking, "Man, I'm never going to get there."
Watching her reading of three poems that collectively comprise a meditation on beauty and vitality, she says, has "been an interesting way of seeing the progression I've made through the years in my writing, which really showcases Bucknell's education."
It's also helped her connect with other students through her work in a semester when opportunities to do so have been limited by the pandemic.
"I'm a teaching assistant for French 102, and a couple of my students have come up and shown me screenshots of the video," she says. "I've had text messages from people and friends saying, 'I saw that thing you did. It was really cool.' It's been really neat to see that."
That same desire to connect is what gave Andrei Bucaloiu '22, a Spanish major on the pre-health track from Danville, Pa., the courage to read an original poem for the series, despite having never performed his poetry publicly before.
"The most important part for me was being able to feel like I was contributing to the campus community at this time — that I could somehow add something and interact with the University in some way," he says. "It kept me motivated and helped get me through this semester."
To make that connection, Bucaloiu shared something about himself. His poem, "With Age," is a rumination on Bucharest, Romania, the city where he was born and where most of his extended family still lives. Writing, Bucaloiu says, is an anchor that moors him to his roots a continent away.
"My great grandfather was an author, and my grandfather writes medical textbooks in Romania," he says. "And when we came to the U.S., the first thing we did was buy books and put them in our little library in the basement. I was always surrounded by writing."
The opportunity to dive into his interest while also preparing for medical school is one of the things Bucaloiu loves most about Bucknell, where he's found not only the scheduling freedom to pursue a creative writing minor, but also "great professors who are willing to give me a lot of time to talk and bounce ideas off of them, and better express myself."
Ryan Hill '24, a music education major from Easton, Pa., has also been happy to find close connections with his mentors and personalized instruction at Bucknell, even from his first year on campus. In fact, it was his piano teacher, Professor Qing Jiang, music, who invited him to perform in the series.
The stage isn't new to Hill. He's been playing at recitals and acting in theatre productions since elementary school, and is preparing to do so again in a Department of Theatre & Dance "Cocktail Theatre" performance later this November.
Still, playing "Waltz for Debby" by jazz composer Bill Evans on the center's Steinway grand piano — touching the same keys used by musicians from John Legend to Seong-Jin Cho, winner of the most recent International Chopin Piano Competition — has already become a highlight of his performing career.
"Watching the video, it really lands on you — it just looks so professional," he says. "It feels weird that my playing is out there. Even though I've played in front of people before, it's never been before such a group as potentially large as this."
"It was such a great experience, and I would love to do it again," he adds.
Hill may yet have that chance. The Weis Center plans to continue the series through at least January, easing into plans for a limited series of virtual holiday and spring programming. Until in-person performances can fully resume, the show will go on, online.