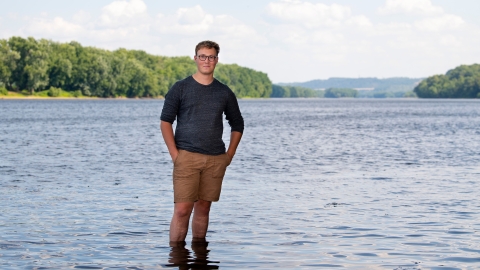 Kit Jackson '24, Computer Science & Engineering
November 11, 2022
Sometimes you'll be given a problem and you'll work halfway through it, and then it's like, this is terrible. You've got to scrap the whole thing and try again. And as frustrating as that is, I do enjoy that process. You're finding a solution to something and testing it.
Kit Jackson '24 could never wait to get started.
In high school, he earned college-level credit through Project Lead the Way — which certifies teachers to lead college-level STEM classes for high school students — and by taking classes at a local community college. It was enough to earn Jackson an associate's degree along with his high school diploma.
Just a few weeks later, he plunged headfirst into his engineering experience at Bucknell.
Jackson was among the first class of incoming students to take part in Engineering EXCELerator, a five-week program that invites students to join team-based design projects, train on makerspace tools and take introductory coursework the summer before their first semester. Funded by donor partners and open to students from all backgrounds, the endowed program offers a foundational engineering experience at no cost to students.
As he built a miniature car powered by unconventional chemical reactions and designed prototypes with advanced fabrication tools, Jackson found himself immersed in the sorts of experiences that have long drawn him to engineering — building and testing, sometimes failing, but usually moving toward a solution, even when it's not a straight line from A to B.
"Sometimes you'll be given a problem and you'll work halfway through it, and then it's like, this is terrible," Jackson says. "You've got to scrap the whole thing and try again. And as frustrating as that is, I do enjoy that process. You're finding a solution to something and testing it."
A few semesters on, Jackson has continued pursuing solutions to vexing problems. He's helped computer science professors explore new ways of implementing virtual reality in their classrooms and is now at work developing technology to help biology professors learn more about a little-understood aquatic creature — one that resides just a few blocks from Bucknell at the bottom of the Susquehanna River.
Move a Mussel
Freshwater bivalves, or river mussels, have a chewy consistency and lack the culinary appeal of their ocean-dwelling cousins. Because of this, Jackson says few have paid much attention to them — scientists aren't even exactly sure how they move around.
Together with engineering professors Stewart Thomas, electrical & computer engineering, and Alan Marchiori, computer science and electrical & computer engineering, as well as Professor Elizabeth Capaldi, biology and animal behavior, Jackson is developing a sensor that can be attached to the side of a river mussel's shell. Combining parts commonly found in smartphones such as a gyroscope and accelerometer with wireless transmitting capabilities, the device could one day shed new light on the ecology of Bucknell's own backyard, Jackson says.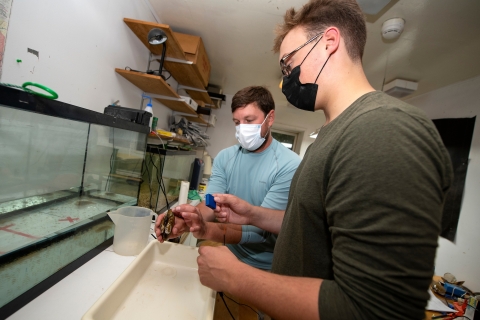 Jackson says that day is years down the road, but the possibility of tangible results still entices him. He says it's a big part of why he chose to major in computer science & engineering.
"A lot of people just do computer science, you know, become analysts at companies dealing with data, which is just not really something I was looking to do," he says. "I want to be looking at a problem and trying to figure out how to fix it using computer science. Computer science & engineering allows me to do that. I can see a problem and learn how to think like an engineer and work through those processes, instead of just writing code."
Jackson now knows that his next step will involve work with a purpose that's personally meaningful for him. Following a lead from the College of Engineering, Jackson has earned admission to the Department of Defense's Science, Mathematics, and Research for Transformation (SMART) Scholarship-for-Service Program, which will fund his Bucknell education in full and provide him a job at the DEVCOM Army Research Laboratory at Aberdeen Proving Ground in Aberdeen, Md., following his graduation.
"I'd always had the desire to serve my country in some way," Jackson says. "Being able to work for the government in cybersecurity or something like that was something I'd always really wanted to do. This offered me the ability to stay at Bucknell and then also have a job when I graduate in the field that I wanted to work for."
Help at Every Turn
Once Jackson decided what he wanted to pursue, he found another helping hand at Bucknell. Besides learning about the opportunity through his college, Jackson found expert guidance in preparing his SMART application in Bucknell's Center for Career Advancement.
"They helped me with the application," Jackson says. "There was a certain letter I needed that I had never heard of before. They were like, 'Oh, yeah, we know exactly what that is. Here's a packet about how to write it.' "
Thanks to the experience he's gained at Bucknell, Jackson says he feels secure about his next steps. In his career with the army, Jackson anticipates enjoying the same iterative, experimental cycle of finding a solution by trying and testing that has captivated his attention in his engineering classes and research.
"[In the army] there are all these sensors and technologies that are implemented in the field — on planes and with soldiers and everything. And if there's ever an issue, it comes back to us, and we try to see what the bug was and try to fix it, test it and then eventually reimplement or improve it," he says.
Until then, Jackson is looking to pay forward the guidance and support he's received all along in his Bucknell experience. The summer after his first year at Buckell, he returned to the EXCELerator program as a student mentor.
"It was very, very influential in my experience at Bucknell," Jackson says.