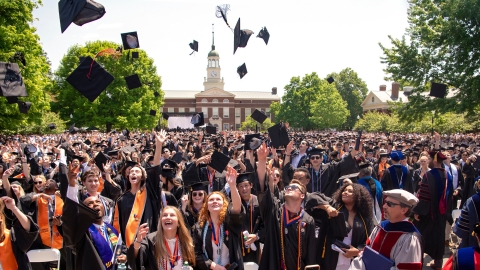 Back-to-back Commencements Honor Bucknell University's Class of 2020 and Class of 2022
May 22, 2022
During a Commencement weekend like no other, Bucknell University celebrated two classes of graduates in sun-soaked ceremonies on Malesardi Quadrangle.
Members of the Class of 2020 were recognized on Saturday, May 21, two years after their in-person ceremony was canceled due to the pandemic. Then on Sunday, May 22, the University's 172nd Commencement ceremony celebrated the Class of 2022.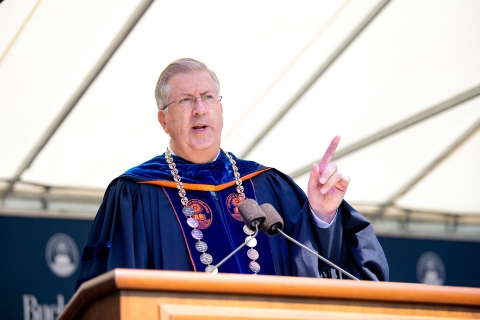 Throughout both ceremonies, speeches by administrators, alumni and graduates commended the adaptability and courage that allowed each class to lean into uncertainty and face unexpected difficulties head-on.
"You tapped into your critical thinking skills and leveraged the power of collaboration. You became adept communicators," University President John C. Bravman said in his address at the Class of 2022 ceremony. "When you hit snags, you stayed focused and flexible, and you adjusted as needed to reach your goals."
"These are core values for Bucknellians, and they will last you a lifetime," Bravman continued. "As you leave campus today as a Bucknell graduate, do so with the confidence that you can handle anything."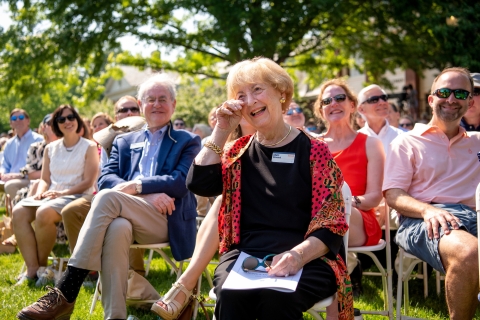 The two ceremonies ushered approximately 1,700 Bucknellians into their next chapters, nearly 900 from each of the two graduating classes. The 897 graduates from the Class of 2022, whose degrees will be conferred in June, represent 62 majors across Bucknell's three colleges (Arts & Sciences, Engineering and the Freeman College of Management). They hail from 33 U.S. states and 25 nations. On Saturday, more than 500 of the 869 Class of 2020 graduates returned to walk the stage in full regalia.
Also in attendance at both ceremonies was Doris Malesardi. Together with her late husband Bob '45 P'75, P'79, P'87, G'08 — for whom Malesardi Quadrangle is named — Doris has worked to expand access to Bucknell through the family's generous support of need-based financial aid.
Winning the Game
In his speech to the Class of 2022, student speaker Tarrin Earle '22 reinforced Bravman's message of confidence, as he reminded his peers of all they've accomplished as individuals.
"At the end of the day, each of you had to define your own experience at Bucknell. You decided how you'd learn, connect and grow," said Earle, a markets, innovation & design (MIDE) major from Florence, N.J. "When game time came, it was you, your intuition, your effort and your bravery that led you to victory."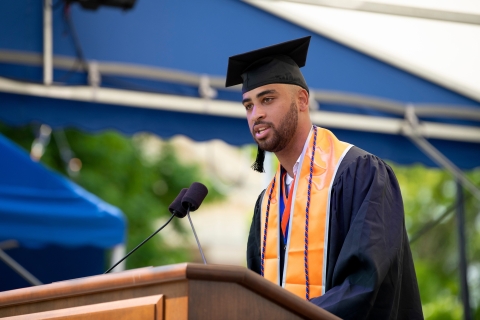 Like his classmates, Earle was just getting the hang of being a Bucknellian when the pandemic forced him to adjust to a new version of college life. Then another unexpected crisis struck: Earle, the Bison football quarterback, tore his ACL — not once but twice.
But setbacks like these never deterred him from scoring big over the course of his Bucknell career; nor did similar challenges prevent his peers from emerging as winners.
"Now, look where we are: sitting here about to receive one of the most prestigious degrees in the country," Earle said. "Today, you sit here as the gems of Bucknell University. And Bucknell is so lucky to have you representing it as you continue to succeed in life."
The Power of People
Wherever their individual paths lead post-Bucknell, members of the Class of 2022 won't travel alone. A community of mentors, colleagues and loved ones — as well as a network of more than 50,000 University alumni — will continue to support their steps.
It's this community that Commencement speaker Daisy Auger-Domínguez '95 reminded the class to lean on as they navigate what lies ahead.
Since graduating from Bucknell with degrees in women's & gender studies and international relations, Auger-Domínguez has spent her decades-long career designing and executing diversity, equity and inclusion strategies for some of the world's top organizations, including Moody's Investors Service, The Walt Disney Company and Google. She now leads VICE Media Group's global human resources organization.
In her Commencement address, Auger-Domínguez recounted a personal journey marked by abrupt changes and inequality, describing ways in which she was often underestimated as a Latina from the Dominican Republic.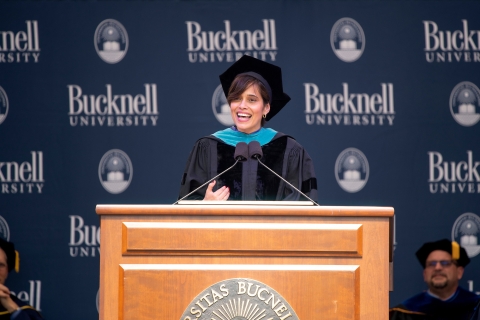 "Being made to feel less than because of my ethnicity and socioeconomic [status] … was not the path for me," said Auger-Domínguez, who was named one of Hispanic Executive's Top 10 Leaders as well as one of the 25 Most Powerful Women by People en Español. "I summoned the courage to imagine a different path for myself. I would study at a university that welcomed the whole of me."
At Bucknell, Auger-Domínguez found a sense of home in campus communities that made her feel seen and celebrated — including the Social Justice Residential College and the 7th Street (Umoja) Affinity House. Throughout her career, Auger-Domínguez continued to find support in managers and colleagues who inspired her to be courageous in making workplaces more inclusive. She encouraged the Class of 2022 to do the same.
"Listen to the voices … that recognize when someone is diminishing your value," Auger-Domínguez said. "The lessons you [will] learn and strengths you [will] develop are all unknowns today, but building the agility needed for a winding path will give you courage. The people you meet along the way, perhaps those sitting here with you today, will teach you compassion."
Trying, Failing and Flying
Though they may no longer be students, Provost Elisabeth Mermann-Jozwiak reminded the Class of 2020 during Saturday's ceremony that their education has only just begun.
"While earning your Bucknell degree was a huge milestone in your intellectual journey, it is not the conclusion," Mermann-Jozwiak said. "Your curiosity and your thirst for education first caught the attention of our admissions team. I urge you to keep investing in yourself by continuing to nurture these qualities, no matter where life takes you."
Much like discoveries made at Bucknell, the answers to life's most perplexing questions can't be found in a textbook. As they continue to navigate life beyond the Christy Mathewson Gates, the Class of 2020's most profound lessons will likely come through trying, failing and trying again, before ultimately succeeding.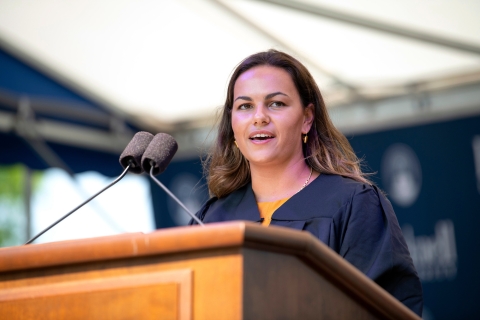 In her remarks to her fellow alumni, speaker Arianne Evans '20 likened the process to a bird learning to fly: "Just like our Bucknell journeys, our take-off moments will be unique to each of us" — from accepting a dream job offer or graduate program admission to building meaningful relationships and exploring new interests.
"Maybe you're still waiting for your moment to arrive or have fallen a time or two just when you thought you were beginning to find your way," said Evans, a managing for sustainability major who also served as class president. "But at the end of it all — after the cracking, trying, flying and falling — comes the best part: the landing and the sense of 'I'm OK.' "
No matter where in the process these graduates find themselves, they can move forward knowing that the talents they developed at Bucknell will carry them to their destinations.