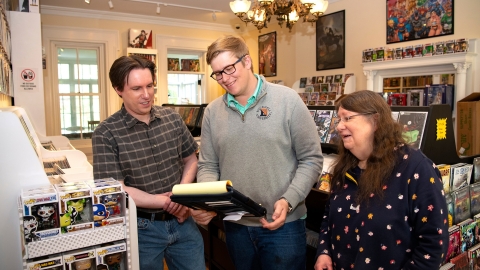 Student Consultants Drive Area Economic Development
May 30, 2023
Bucknell University students are playing a big role in economic development across central Pennsylvania communities as consultants for small businesses. Around 20 students are serving as Bucknell Small Business Development Center (SBDC) student consultants to help entrepreneurs turn their dream businesses into reality — assisting them with financial management, marketing, capital acquisition and engineering product development.
The opportunity to gain real-world business experience was appealing to Jack Krasulak '25, who was eager to share what he's learning as a business analytics major with entrepreneurs who need assistance. His expertise has proven valuable to Albert and Laura Payne, owners of Comics Metropolis, a comic book store on South 3rd Street in Lewisburg.
"One of Comics Metropolis' primary objectives was to attract new customers, especially after the pandemic. To tackle this challenge, we devised a two-pronged strategy that involved enhancing their social media marketing and strengthening their ties with the community," Krasulak says. "We reached out to gaming and comic book groups in Lewisburg and on Bucknell's campus to establish better connections."
Additionally, Krasulak consulted with the owners on how to increase the value they offered to their customers.
"To achieve this, we designed a bespoke reusable bag that was tailored to accommodate comic books and other merchandise specific to their store," he says. "This added convenience and practicality for customers while promoting the brand."
Leveraging Student Talent from All Three Colleges
Nationally, Small Business Development Centers provide confidential no-cost consulting and educational workshops to individuals seeking to start and grow businesses. Bucknell's center is one of almost 1,000 across the country that gives entrepreneurs the knowledge and skills they need to succeed.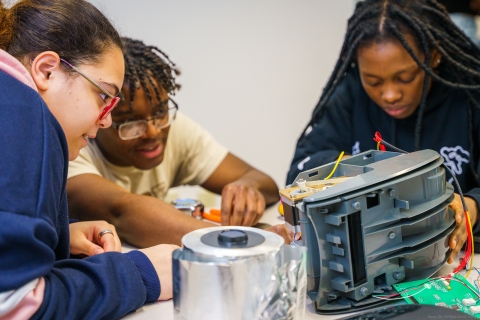 In addition to a professional staff of six, Bucknell's SBDC relies on the talents of student consultants from all three colleges — the College of Engineering, Freeman College of Management, and College of Arts & Sciences — to provide these services.
"Through the Bucknell SBDC, companies get help that they need and frequently cannot attain otherwise, and the students get to experience that they would not get outside this bubble of Lewisburg, Pennsylvania," says Ian Proud, SBDC engineering innovation manager. "This opportunity prepares them for the real world."
As business analytics majors, Krasulak and Lea Codispot '24 are called into action when clients come in with a need for competitive analysis, industry trend forecasting or financial analysis. Stanley Gai '25, a business analytics major, and Omuhle Ndhlovu '26, a chemical engineering and management double-major, are among the students engaged with the SBDC's Innovation Engineering Center of Excellence. This team of students offers specialized innovation, engineering, and concept development assistance with resources including computer-aided design software, analytical tools, and prototyping capabilities.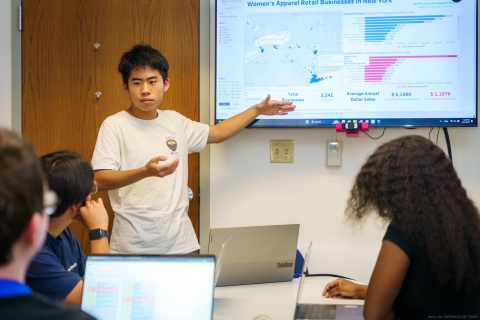 In addition to the technical assistance and research the student consultants provide, clients value the perspective of a younger generation.
"There's a certain magic that happens when students bring their demographic's perspective to the table — something that businesses rarely get from an external consultant," says Denny Hummer, SBDC assistant director of business incubation. "Access to the student population and insight into their buying decisions provides our clients with an invaluable resource that they simply can't find anywhere else."
Helping Create New Businesses and Jobs
The student consultants' impact is far-reaching. The Bucknell SBDC serves clients in six counties, including Union, Montour, Northumberland, Snyder, Perry and Juniata. They are currently working with 124 active clients, and in the past fiscal year, they assisted 416 firms — supporting a total of 2,029 jobs in the region. In this past year this equated to helping 29 startup businesses get off the ground and helping existing businesses secure over $7.4 million in capital to grow their markets and operations.
"Being able to see the start-to-finish progress when I'm working with clients has become my favorite part about being an SBDC student consultant," says Codispot. "When we help a client start their business or solve a problem, I realize that we have real-world impact. As opposed to a simple school project, I have a real effect on someone's small business."
Having this real-world experience during their time in college allows these students to see what working in a similar field may look like upon graduation. Whether in business analytics, engineering or any client-facing role, the variety of experiences offered through SBDC gives the students work experience while providing local businesses with the resources to not only survive, but thrive.
"Diving into a client's world and researching their business sector to come up with solutions is a feeling I will never forget," says Krasulak. "Watching clients succeed because of the research and services we are providing has been extremely rewarding."