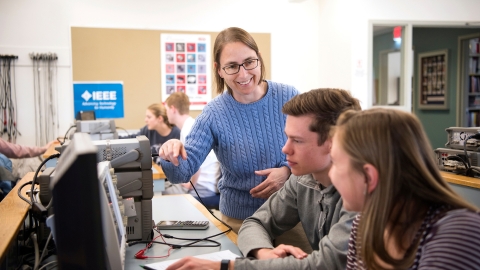 The Benefits of Attending a Small College
July 20, 2020
The size of the school you choose will likely have a significant impact on your college journey. Here are some things to think about when considering small universities.
When envisioning your ideal day at college, do you see yourself sitting in a huge lecture hall with hundreds of other students or in a modest classroom surrounded by a handful of classmates? Do you imagine greeting people you recognize on your way to grab dinner at the dining hall or being a bit more anonymous while walking around campus? Answers to questions like these could help determine whether a small or large university is best for you.
The size of a school may seem like a minor detail to consider when searching for the right college fit. But thinking about whether you'd thrive better in a big or small pond can be just as important as deciding what major to declare and determining your financial aid needs. In fact, when it comes to your experience on campus, the size of the school you choose will likely have a significant impact — from scoring a seat in the classes you want to take to forming long-lasting friendships.
While big universities undoubtedly have much to offer, small schools like Bucknell (with an enrollment of 3,600) can be great choices for students looking to explore their individuality and make an impact with close guidance and support from faculty, staff and peers. Here are a few key things to keep in mind when deciding if you should attend a small university:
Smaller Class Sizes
Colleges and Universities that admit fewer students typically place a high value on close student-faculty interaction in the classroom. So you'll hardly ever find yourself as one of 100 students in a large lecture hall, struggling to get your questions answered. Many classes at small colleges are limited to no more than 20 undergraduates, giving professors greater opportunities to facilitate meaningful discussions, get to know their students better and offer individualized support. 
Low student-to-faculty ratios, like Bucknell's 9-to-1, ensure that students aren't anonymous faces in crowded, seminar-style classes. Because our courses are always taught by dedicated, world-class faculty (not teaching assistants or graduate students), your professors will not only know your name but will also have an investment in your interests, aspirations and progress in your chosen degree. 
Although Bucknell enrolls less than 4,000 students, you don't need to worry about a lack of facilities or major options. We offer more than 60 majors and 70 minors and countless high-tech labs, makerspaces and study locations with cutting-edge equipment to fuel your innovation and discovery.
Accessible Opportunities
There's nothing wrong with a little healthy competition. But at a large research university with tens of thousands of students and only so many opportunities for hands-on learning, getting the skills and expertise you're looking for can be even more of a challenge. At a smaller college, you may find that research and fellowship positions are more accessible — while still requiring students to bring their best to the table.
Because smaller schools typically enroll fewer graduate students, undergrads are first in line to partner with professors on relevant, impactful projects both inside and outside the classroom. This not only means more opportunities for you to translate your passions into real-life experience, but also a higher likelihood of seeing your name published in a scientific journal or presenting findings to leaders in your field of interest at major conferences. At universities like Bucknell, these experiences aren't reserved for juniors and seniors; you can begin making breakthroughs starting the summer before your first semester through university programs designed to help first-year students hit the ground running. 
This kind of accessibility doesn't end at research and fellowships. Many small colleges, including Bucknell, also empower students to gain the on-the-ground experience they need to break into their chosen fields through robust mentoring and internship programs.
Tight-knit Community
When deciding where to spend your college years, feeling a sense of belonging is just as important as being interested in the academic programs a university offers. While some students enjoy the process of seeking out their niche on a larger, densely populated campus, others want to feel embedded right away. Choosing a school that's the right size may come down to whether you value things such as:
Encountering plenty of familiar faces on campus every day

Building relationships with other students in your residence hall

Getting to know peers outside of your major or school within the university

Programs that connect you with students of

similar backgrounds
Do any of these sound like must-have aspects of a college experience? If yes, then a small school could be a great fit. 
Universities that enroll fewer students are likely to invest in programming that fosters strong, tight-knit connections between you and your peers. First-year students at Bucknell, for example, have the chance to engage in a Pre-Orientation program prior to New Student Orientation, where they can meet and bond with each other while exploring common interests in the arts, entrepreneurship or the outdoors. Our nine Residential Colleges ⁠— themed living-learning communities that are open to all first-year students ⁠— also give you the chance to forge lasting friendships and connect with professors while being immersed in a subject you're passionate about, from social justice to sustainable food production. And like most larger universities, Bucknell offers nearly 200 clubs and organizations as well as Division I athletics, club sports and intramurals. So students never have to look too far to find a great group to explore college life with.
Consider What You Want Out of College
Ultimately, attending a small university versus a large one is a highly personal decision that depends on your personality, values, and social and educational goals. While searching for the right school, be sure to ask admissions counselors about the culture of the college or university as well as the academics. If you're able to visit the campus, talk to the tour guide about student activities and resources for connecting with peers. And remember to think about whether the following aspects of a small-school experience are what you're looking for in your college journey:
Low student-to-faculty ratios that encourage professors to know their students

Ample access to real-world training through research and fellowship opportunities

Programming designed to help you build community and feel integrated from your first day on campus
If you'd like to learn more about what this looks like at Bucknell, check out the Meet Bucknell page, explore our undergraduate research programs and discover all that life on our campus has to offer.