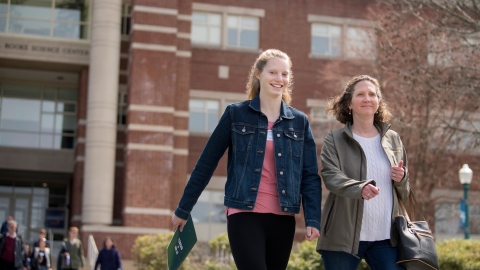 How to Choose a College That's Right for You
May 11, 2020
At first, the task of finding the right college fit seems impossible. With more than 2,800 four-year colleges in the United States, where do you even begin your college search? The thought conjures images of a needle buried in a very large haystack. 
But by focusing on the areas that matter most to you, you can begin narrowing down those 2,800 schools to a top 10, 15 or 20. You'll probably even find yourself considering colleges that weren't on your initial radar. 
With your list at a reasonable size, you can begin taking a closer look at each college or university. You can join the schools' mailing lists, contact current students and even schedule a campus tour.
Start by casting the widest net possible. A comprehensive, complete college search will take you beyond giant state schools and the big, obvious choices. You might look into smaller, more personalized universities like Bucknell. Wherever you choose, you'll be happier knowing you reviewed a range of options.
If you do end up putting Bucknell on your list, we'd love to introduce you to some of our students, faculty and alumni. Through their stories, we think you'll see how Bucknell offers immersive educational experiences that prepare you for life and strengthen your resume.
Ready to begin? Let's get started by going over some key categories to consider when choosing the right college.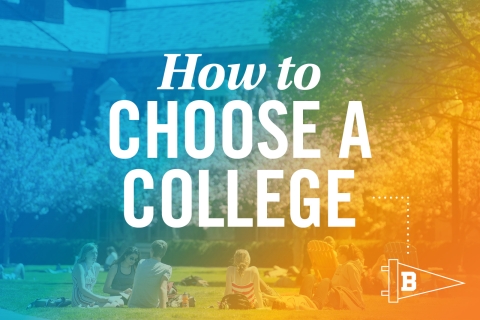 Academics: Does the School Have My Major?

You don't need to have a specific major in mind when beginning your college search, but it helps to have some idea of what you want to study. Think about your interests, career aspirations and favorite classes in high school. Is there a pattern there?  
Knowing what topic you'll study will help you find colleges that offer — or even specialize in — that field. If you're set on a specific major, this step will help you quickly narrow down your list.
But what if you have no clue what you want to study? That's fine, too. Many students apply undecided and take their first year in college to discover what subjects interest them most. 
At Bucknell, you can apply undecided to any of our three colleges — Arts & Sciences, Engineering and the Freeman College of Management, giving you time to explore multiple subjects. 
Size: How Big Is the School?
Colleges and universities come in all sizes — from 200-student arts colleges to state universities with enrollments of 70,000.
Choosing the size of school you prefer is a highly personal decision. Think about the size of your high school and the number of people in a typical class there. Consider whether you like it when teachers and other students know your name or if you prefer more anonymity. 
Most large schools have huge campuses, a wide range of majors and big-name Division I athletics programs. Smaller schools typically offer more individualized attention, let you customize your experience and have a "community" feel. 
Bucknell, with an enrollment of 3,600, offers the high-tech resources and research opportunities found at much larger schools but with the small class sizes (20 students on average) and personalized attention found at smaller schools. We have more than 60 majors and 27 Division I athletics teams — all on a campus where nothing's more than a 10-minute walk away. 
Geography: Where Is the School?

Location isn't everything, but it's pretty important. After all, you're choosing where to spend four years of your life. 
When thinking about a school's location, ask yourself questions like:
Do I want to be closer to home or a little farther away? 
What kind of climate do I prefer?
Do I want to live in a major city or somewhere that's quieter?
What kinds of weekend adventures might I enjoy?
What is the surrounding town like, and are there things to do?
If you're able to visit the school in person, that's great. You'll get a good sense of what life's like in that area. If not, don't stress. Consult these tips for choosing a college without visiting.
Bucknell is located in Lewisburg, a charming, bustling town in the heart of Pennsylvania. Students love it here because there's plenty to do but never any traffic. When students crave the big city, they can get there: New York City, Philadelphia, Baltimore and Washington, D.C. are each just three hours away. And with eight state parks within an hour of campus, the great outdoors is always within reach, too. 
Our academic reputation and gorgeous setting draw in students from more than 35 different states and 50 countries.
Campus Life: What's There to Do?

You won't spend your entire week in class. In fact, the non-academic experiences you have in college can be just as important for your future as those that count toward your degree.
Some questions to ask include:
Do most students live on or off campus? This will tell you a lot about the school's evening and weekend offerings.
Does the school have a club for your favorite activity or cause? If not, will they help you start one?
Is the school considered a "commuter school" where students go home on the weekends?
Life at Bucknell is full of opportunities to pursue your passions, meet interesting people and try new things. Almost all students live on campus, and housing is guaranteed all four years. Because everyone shares this safe and supportive space together, you'll find a variety of activities every night of the week. Grab a late-night snack, enter an intramural sports tournament, try some karaoke, start a student club or enjoy some stand-up comedy — all without leaving campus. 
Faculty: Who Does the Teaching?

Professors bring your major to life, challenging you to think differently and opening your mind to new questions and radical outcomes. 
If you have a major in mind, take a look at the faculty in that department to see whether they have published their research, presented at conferences or been quoted in major media outlets. These are good signs that they're active and relevant in their field. 
Keep in mind that at larger schools, professors delegate much of their instruction to teaching assistants and graduate students. At smaller schools like Bucknell, professors do the actual teaching. That means you can talk to them during office hours and in labs and learning spaces.
When comparing numbers, you might look for a school's student-to-faculty ratio for an idea of how accessible your professors will be. At larger schools, this number is typically 20-to-1 or higher. At Bucknell, it's 9-to-1.
Tuition and Financial Aid: How Much Does It Cost?

The cost of attending college will vary widely, so factor that into your decision. But remember that the sticker price doesn't tell the whole story.
You'll also want to see how the school helps students afford tuition through financial aid, scholarships and work-study programs. This is separate from any student loans for which you and your family might qualify.
Think of college tuition as an investment in your future. At Bucknell, we're proud to tell you that investment will pay off, leading graduates to a well-paying career or top-ranked graduate school. And that's not just us talking. In 2020, U.S. News & World Report named Bucknell as one of the 10 "national liberal arts colleges with the best return on investment."
Career Opportunities: Where Will I Go After Graduating?

No matter which college you choose, you'll have access to an alumni network after graduating. These alumni will use their connections to help you find job and internship opportunities. 
So how do you compare one school to another? When browsing their websites, look for an "outcomes" page that shares information on that school's recent graduating class. 
Questions to look for include:
How many graduates were in a job, volunteer opportunity or grad school within nine months of graduating?
What was the average starting salary for graduates?
What companies are graduates working for?
What grad schools, law schools or medical schools do graduates attend?
What's the alumni network like?
In addition to the data, look for alumni stories to read how graduates felt the school prepared them for success.
Final Thoughts: It's About a Feeling

In the end, choosing the right college is about a feeling. For many students, something just clicks and they know.
Weighing the factors above won't just help you examine schools on your list. It'll also help you better understand yourself. When that happens, you'll find that the wide world of college choices doesn't seem so daunting after all. And you'll find you're one step closer to choosing the perfect college home.