This video does not contain audio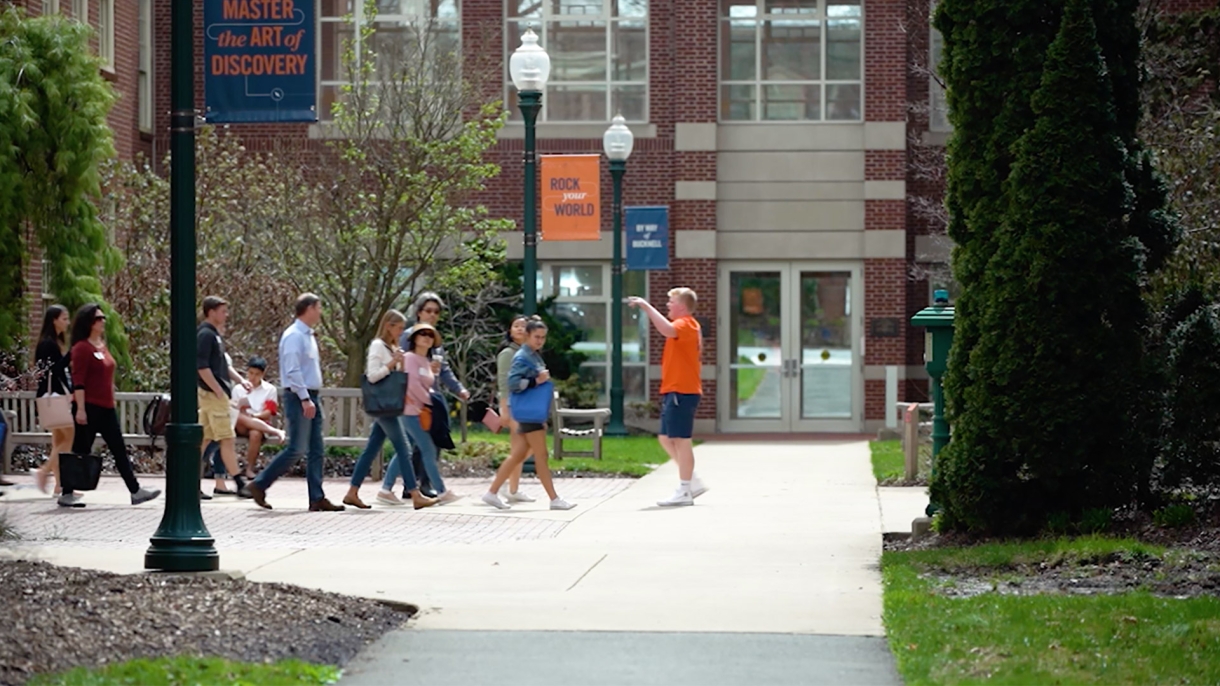 When you visit campus for an information session and self-guided tour, chat with our student ambassadors online or take a virtual tour, you'll have a front-row seat as you explore this place we call home.
With both in-person and virtual visit options, you can learn more about Bucknell in the way that fits you best. 
Visit Options: In-person and Virtual
We have introduced two options for families wanting to visit Bucknell: in-person information sessions (with an optional self-guided tour) and virtual visits.
In-person Information Sessions
An information session is a 45-minute introduction to our application process, campus life and innovative approach to learning. After the session, you're invited to take a self-guided tour and try our new driving tour. Pre-registration is required; we are unable to accommodate walk-ins at this time. In accordance with orders made by the Pennsylvania Department of Health, visitors who have traveled to or from states listed here will not be allowed to visit unless they quarantine for the recommended two weeks before visiting campus.
Information sessions begin at these times:
Mondays: 9 a.m., 11 a.m. and 1 p.m.
Tuesdays: 9 a.m. and 1 p.m.
Wednesdays: 9 a.m., 11 a.m. and 1 p.m.
Thursdays: 9 a.m. and 1 p.m.
Fridays: 9 a.m., 11 a.m. and 1 p.m.
To protect the health and safety of visitors and staff, we have made the following updates, based on guidance from health authorities:
Location: We have relocated information sessions to the spacious Weis Center for the Performing Arts. Free parking is available in the visitor lot just southwest of the Weis Center near the football stadium (lot 72 on this map).
Pre-registration: All visitors must register for the information session; we are not able to accommodate walk-in visitors at this time. See the schedule and register here. Please note that in accordance with Pennsylvania Department of Health guidance, visitors who have traveled to or from certain states will not be allowed to visit Bucknell unless they quarantine for 14 days before visiting campus. Find the list of states here.
Health screening: To enter the Weis Center for the Performing Arts, visitors are subject to a health screening that may include a temperature check. Please arrive at least 20 minutes early to ensure you make it inside with plenty of time to spare.
Physical distancing: Capacity at the information session is limited to 25 people, and every third row will be open for seating — measures designed to allow families to spread out as they learn more about Bucknell. 
Cleaning: The Weis Center will be rigorously cleaned after each information session.
Self-guided tour: After the information session, we invite you to explore campus on your own. Maps for our self-guided tour will be available at the Weis Center.
Face coverings required: All visitors (ages 2 and up) must wear face coverings while inside. We will have a limited supply of face coverings available to those who need them. 
Additional measures added: We've placed signs to promote one-way foot traffic and stickers on the floor to remind visitors to remain 6 feet apart.
Register for an information session
Virtual Visits
We will continue to offer virtual visit options, including virtual information sessions and student ambassador chats, that let you learn more about Bucknell from wherever you are.
Navigating Your College Search
Don't miss our virtual series called Navigating Your College Search, held most Thursdays until the end of July 2020. Here's the schedule:
June 11: Starting Your College Search: The Basics
June 18: How to Get the Most Out of Your Application
June 25: How to Work With Your School Counselor
July 9: Understanding Financial Aid and Scholarships
July 16: Wait For It: What Happens After I Submit My Application?
July 23: How to Nail Your College Essay
July 30: Major Decisions: Will Applying "Undecided" Hurt Me?
The week of July 30, we will also host bonus sessions about each of Bucknell's three colleges: Arts & Sciences, Engineering and the Freeman College of Management
Office of Admissions
Hours
Monday – Friday:
8:30 a.m. – 4:30 p.m.
Saturday & Sunday:
Closed