This video does not contain audio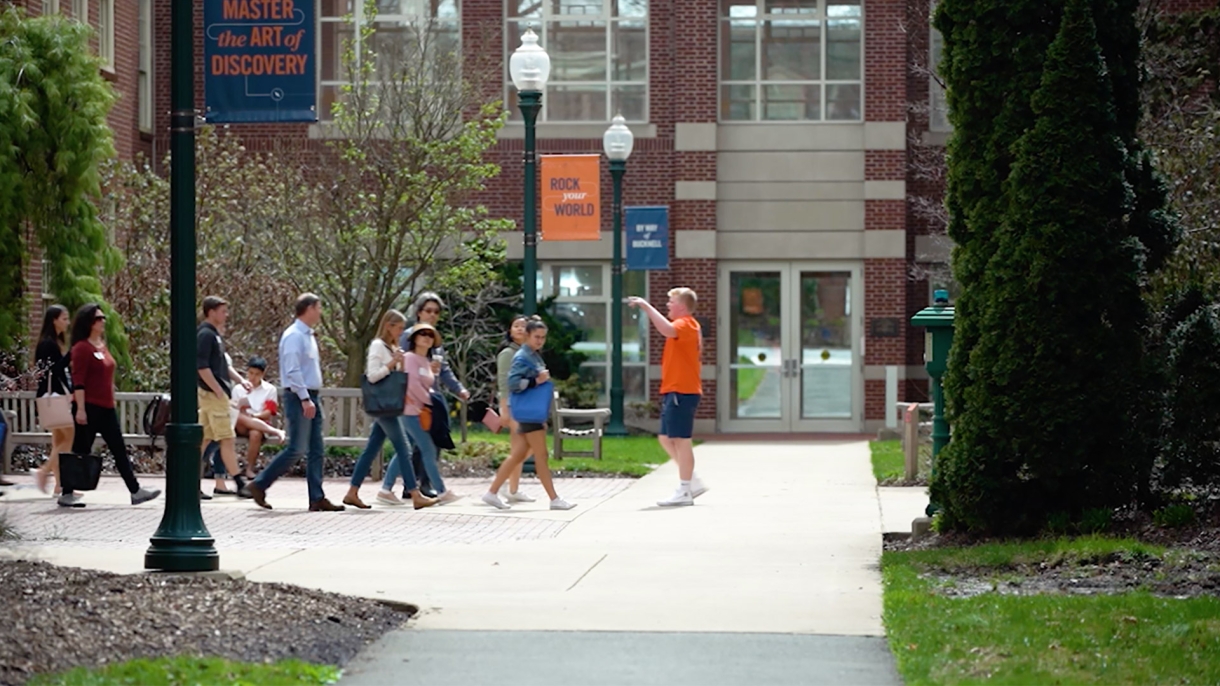 When you visit campus for an information session and guided tour, chat with our student ambassadors online, or experience a virtual tour of campus, you'll have a front-row seat as you explore this place we call home.
This combination of in-person and virtual visit offerings means you can learn more about Bucknell in the way that fits you and your family best.
Find the visit experience that's right for you below. We hope to see you soon — either on campus or online.
In-person Visit Options
In-person Admissions visits are available, with protocols designed to keep everyone safe and healthy.
Visits include your choice of one of the following:
A combined visit, with a 30-minute information session followed by a 75-minute campus tour
A standalone 75-minute campus tour
We care about the health and safety of our visitors and staff and would like to remind you of the following visit guidelines:
Registration: Advance registration is required. Unfortunately, we likely cannot accommodate unregistered guests during information sessions and tours. (For these visitors, we suggest our self-guided audio tour or driving tour.)
Location and parking: Once on campus, please park in a visitor-designated parking lot and make your way to the Office of Admissions at Freas Hall (One Dent Drive). If visiting between May 23 and Aug. 11, 2022, head to the Weis Center for the Performing Arts (525 Weis Drive).
Face covering policy: Please bring a face covering for your visit. Bucknell's face covering requirements follow CDC guidelines, based on current rates of transmission of COVID-19 in Union County. Face coverings are required in all public and academic indoor campus spaces when transmission rates are high, but not when transmission rates are low or medium. View Bucknell's current status.
Capacity: To promote the health and safety of student ambassadors, staff and guests, each tour will strive to be small and socially distanced.
Group Visits
Groups of 15 or more current high school students can request a dedicated admissions counselor-led information session and/or campus tour. Requests should be submitted to groupvisits@bucknell.edu at least three weeks in advance of your requested visit date. After submitting a request, you will be contacted within 3-4 business days of your submission to either confirm or clarify your request.
Groups of fewer than 15 students should individually sign up for our information session and/or tour.
Virtual Visits
Use the link below to learn about:
Virtual information sessions, hosted by an admissions counselor and current student(s)
The Navigating Your College Search virtual summer series, hosted by admissions counselors
Guided virtual campus tours hosted by current students
COVID-19 Protocols for Visitors & Guests
Bucknell's campus is open, and we welcome visitors. Masks are not required outdoors, and they are not required indoors when the CDC rates Union County's risk assessment as low or medium. Please see the link below to confirm current indoor mask requirements before your visit. As individuals on campus have the right to ask others to mask in their work area, please always have a mask available. 
What You'll Experience in Lewisburg
Contact Details
Office of Admissions
Hours
Monday – Friday:
8:00 a.m. – 4:00 p.m.