Introducing Holmes Hall: A Commitment to the Power of Intersectional Learning at Bucknell
May 24, 2021
Steve Holmes '79 majored in accounting at Bucknell but took nearly enough art & art history courses to earn a minor.
When he got out of the classroom and into his first job as a CPA for what is now Deloitte in New York City, where the expectations were high and the pace often frantic, Holmes found himself needing to draw on both of his specialties.
"I was fresh out of college, and I was thrust into dealing with CFOs and controllers of big companies like Mitsubishi and Dean Witter," Holmes says. "My background in art history allowed me to talk with people who were at a different level.
"I'm talking to CFOs who are 55 or 60 years old, I'm 25 years old, and yet because I knew about art, it gave me that instant kind of maturity and credibility that I would never have had if I had just gone down a path of one subject."
A Bucknell trustee since 2007, Holmes believes in strengthening opportunities for students to explore interests across different majors and colleges. He knows from his own college experience how the intersection of broad, diverse liberal arts and professional programs prepares students to succeed in fields where you always need to do more than just one thing.
The new academic building under construction at Bucknell, which will provide a new home for the Freeman College of Management and the Department of Art & Art History, is a tangible affirmation of Holmes' belief in the power of intersectional learning. It is also one that will bear Holmes' name.
At its April meeting, the University's Board of Trustees announced that the building, which will be open for the fall 2021 semester, would henceforth be known as Holmes Hall. The naming recognizes significant commitments by Holmes and his wife, Bonnie Bencsko Holmes '79.

The 79,500-square-foot facility will enhance experiential learning opportunities in state-of-the-art analytics and investment labs, art and design studios, and other immersive teaching spaces. Each year, more than 1,000 students will use the building to explore courses in seven majors from the Freeman College of Management and two majors from the College of Arts & Sciences.
"Our current homes for management and art & art history are some of our oldest buildings on campus and are familiar to several generations of Bucknellians," says Karl Voss, the Douglas K. Candland Dean of the College of Arts & Sciences. "Going forward, we are proud to have new facilities that will enable innovative and transformational learning opportunities across department and college boundaries."
"At Bucknell, we prepare students to lead across the full range of human endeavors, and these beautiful spaces will inspire our students to collaborate, create and innovate as they address real-world problems," adds Raquel Alexander, the Kenneth W. Freeman Professor & Dean of the Freeman College of Management. "We are so grateful to our donors, especially the Holmeses, for their loyal support and investment in the distinct and high-impact learning opportunities this building will offer generations of Bucknell students to come."
Holmes is most excited about how the facility will spark connections and collaborations among students with diverse academic paths — offering fresh opportunities for students to uncover new interests, much as he discovered his lifelong passion for the arts at Bucknell.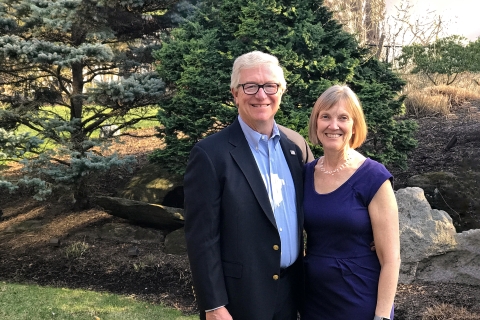 "As a leader, you want to be able to connect with people, and to do that well you need to have a more diverse background of interests than just one specialty. It's important to be broad," Holmes says. "I think the world needs more broad thinkers, and I think Bucknell produces broad thinkers."
While he came to Bucknell planning to pursue a career in business, Holmes says it was his art history courses and a Jan Plan study abroad that sparked his interest in real estate and architecture, a major area of focus throughout his more than 30-year career in the hotel and resort vacation industries. He is currently the non-executive chairman for Wyndham Hotels & Resorts as well as Travel + Leisure, both leaders in the travel industry.
The spirit of discovery Holmes embraced at Bucknell also led him to the most meaningful relationship of his life. On a whim, Holmes and a college buddy once decided to sign up for a ballroom dancing class in order to fulfill the physical education requirement the University had at the time. It was in that class that Steve and Bonnie Holmes first met.
"It was the ability to try different things that opened horizons for me," Steve Holmes says. "A lot of my success is because of that woman I met at Bucknell."
Bonnie Holmes worked as a physician assistant after transferring to and graduating from Johns Hopkins University. All three of the Holmes' children, Kelly '06, Kevin '08 and Julie '12, attended Bucknell.
The Holmes' support for the Freeman College of Management builds on a long history of service and support of Bucknell. In addition to his service on the Board of Trustees, Steve Holmes chaired WE DO, Bucknell's last fundraising campaign. He also chaired the search committee that resulted in the appointment of John C. Bravman as Bucknell's 17th president in 2010. Steve and Bonnie Holmes have also hosted numerous home receptions for incoming students as parent volunteers.
"For decades, in ways great and small, Steve Holmes has been one of Bucknell's most steadfast and passionate supporters," President Bravman says. "Through his vision, generations of students will not only have access to another world-class facility, they will encounter transformative experiences at the intersections that are the pulse of all we do here."
The Holmeses have also been steadfast advocates for increasing access to a Bucknell education. The family's first philanthropy at Bucknell was establishing the Holmes Family Diversity Scholarship, which supports students from traditionally underrepresented backgrounds with need-based aid. Increasing financial aid availability is Bucknell's No. 1 fundraising commitment.
While much of their philanthropic support has been quiet, Steve Holmes says he hopes the naming of the building will inspire other alumni to support Bucknell.
"We would fly under the radar if we could — with most of the philanthropy we do our name isn't on anything," he says. "But I think that stepping up and allowing your name to be used can be inspirational for people, and so I hope that in some small way this commitment inspires others to step up and do things for the University that are meaningful and impactful. There are a lot of ways you can contribute with talent as well as with treasure."