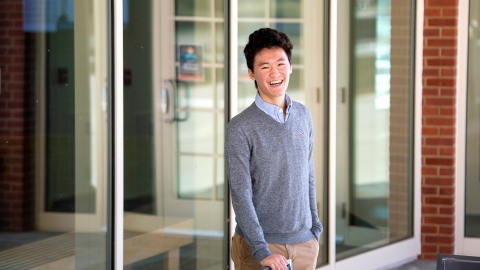 Jaden Lee '22, Mechanical Engineering
July 23, 2020
"When you have a very inspiring idea, people here are drawn to it. What truly sets Bucknell apart is some of the very creative ideas you find here."
Jaden Lee '22's curiosity can't be boxed in. From quantum mechanics to the finer points of knot tying to Baroque chamber music, he's drawn to ideas, and he eagerly follows where his interest takes him. 
In fact, it was the chance to study engineering while also exploring interests outside his major that brought Lee to Bucknell in the first place. 
"I was looking for a rigorous engineering curriculum, mixed with a very interdisciplinary music curriculum," says Lee, who sings tenor with Bucknell music ensembles and plays piano, organ and trumpet. "I've performed chamber music with finance majors, other engineers, music majors — I really enjoy the interdisciplinary aspect of the music scene at Bucknell."
At Bucknell, Lee has found an environment where his professors and peers invite his curiosity — where they encourage each other to go for it and support one another on their journey together.
"I think our students, more than gravitating toward perfecting their GPA, are trying to perfect our mindsets and the novel ideas that we come up with," Lee says. 
From each experience and interaction he's had at Bucknell, Lee has come away with another subject to be curious about. After joining Bucknell's Grand Challenges Scholars Program, he questioned how engineering could take on the world's most pressing problems. By studying abroad at the University of New South Wales in Australia, he gained an interest in Indigenous folklore and traditional healing practices. In a materials science course with Professor Kat Wakabayashi, chemical engineering, he found a sense of wonder about the synthetic surfaces that surround him every day.
Along the way, Lee also found support for his explorations that goes beyond encouraging words. Through Bucknell, he's received the financial support he needs to build the college experience he wants to have. That includes an Arts Merit Scholarship and Rooke Organ Assistants Scholarship recognizing his musical talents, a STEM Scholars Program scholarship that helped him begin doing undergraduate research from the summer before his first year on campus, and a Benjamin A. Gilman International Experience scholarship that underwrote his experience in Australia. 
He's also discovered the common threads that tie together his many interests — the points where art, engineering and everyday life intersect. 
"I knew there was a reason I chose to major in mechanical engineering, despite music being my passion," Lee says. "Mechanical engineers build machines, and musicians use machines to create art — like a pipe organ. I wanted to find that intersection between the two.
"It's not an easy thing because music is truly the most abstract art. You can't see it; you can only feel it. But I also argue that we need to start feeling more and stop relying only on what we see," Lee continues, connecting his axiom with political relations between the U.S. and China, where he lived before moving to Pennsylvania at age 6. "The thing that connects everything is art. When I think about gravitational waves, which are probably the lowest tremors of our universe, I think about music."
Lee's latest attempt to link art, engineering and the mundane is called Bricolage — an informal group of students he assembled remotely during the summer 2020 quarantine to explore novel ideas in engineering. He chose the name to reflect his interest in assembling a diverse array of ideas to create something new.
Their first venture married origami concepts with product design to create cheap, sturdy furniture from folded cardboard. The group began with a very of-the-moment project: a laptop computer stand for students and workers who transitioned to studying or working from home during the pandemic. 
As he returned to campus following the summer quarantine, Lee was eager to take advantage of the College of Engineering's cutting-edge resources for rapid prototyping, allowing him to construct and refine in real life the models he and his partners designed while working remotely. 
Eventually, Lee can envision Bricolage becoming a nonprofit organization, or perhaps an experiential learning opportunity that continues at Bucknell even after he graduates. But Lee is less focused on where his idea eventually leads than the experience in front of him. For him, the journey of exploring and acting on his ideas is its own reward.
"As people we are drawn to ideas," he says. "There are so many negative ideas around right now, and my hope is simply to bring more positive, creative ideas to the community."