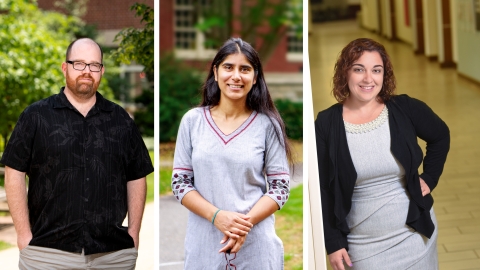 Google Award Fuels Bucknell Study on Prison Decision-making
April 14, 2022
National Public Radio reported in January that the U.S. Justice Department is using computers to determine who gets a shot at early release from prison. But it turns out the predictive algorithm used to determine someone's risk of a return to criminal behavior appears to give biased results, treating people of different races differently.
Bucknell University Professors Darakhshan Mir, computer science; Vanessa Massaro, geography; and Nathan Ryan, mathematics, were awarded a $60,000 Google Award for Inclusion Research to consider questions concerning prison algorithms. Their yearlong project will compare algorithmic quantitative data collected on 280,000 incarcerated individuals during the last 30 years from the Pennsylvania Department of Corrections with the realities incarcerated people describe when interviewed for the project.
"We're going to integrate qualitative and quantitative tools to amplify the experiences of these incarcerated individuals and identify how we can best achieve the goals of rehabilitation, restoration and elimination of racial biases," says Mir. "We'll actually look at the impact of this algorithmic decision-making on the lives of [incarcerated] individuals."
"The goal of the project is much more about unpacking current algorithms and how they're used," adds Massaro. "All algorithms, not just those used for parole or corrections, are the outcome of human decision-making and human values. This project is really to think about which values are reflected in the algorithm and how that creates certain outcomes."
Mir, Ryan and computer science & engineering and mathematics double-major Swarup Dhar '22 have completed part of the quantitative analysis on the algorithms used by the Pennsylvania Department of Corrections. From that data, they have found that keeping a prison secure is a major goal of some of the algorithms. Massaro says that goal doesn't necessarily align with a rehabilitative goal.
"So we're trying to understand what goes into creating the algorithms and learning what values are in them — both in the mathematical sense and the human sense," she says. "Some of this is just really trying to understand them better and make them more transparent, and then thinking about what peoples' experiences are of actually being calculated through an algorithm. There's a lot of focus on studying the algorithms, but maybe not as much focus on studying peoples' experiences of the algorithms."
The Google grant will enable Massaro to collect qualitative data from persons who have been or are currently incarcerated. That work will largely be done this summer with assistance from two or three undergraduate students, who will be supported financially by the award.
The student educational experience is another stated goal of the project.
"Through the use of this data, we aim to train undergraduate students, especially computer science majors, to really understand how data-driven decision-making is closely tied to wider systemic societal issues," Mir says. "This is a concrete and contextualized way of having them do that."
Massaro also regards the project as being vitally important research for the region, which is home to a number of prisons.
"We're surrounded by prisons at Bucknell; you can even see one from campus," she says. "Prisons, in a very intimate way, are part of our local community, and we want students to think about themselves as citizens and part of this community. Lots of people who live in this area work at prisons or are currently incarcerated. So there's a natural interest on the part of our faculty because of our proximity."