Student Awards Uplift Bucknellians' Extracurricular Accomplishments
May 22, 2020
"Empowering," "passionate" and "dedicated" are just a few of the ways faculty and staff often describe Bucknell students. When it comes to the recipients of the 2020 Student Leadership Awards, words like these barely scratch the surface.
Presented at the conclusion of each spring semester, the Student Leadership Awards recognize students of all class years for their accomplishments in co-curricular activities across campus. This year's ceremony — which was held via Zoom due to the COVID-19 pandemic — celebrated more than 30 Bucknellians, who received their honors from faculty and staff mentors with whom they've worked closely during their time at Bucknell.
"It's really a reflection of the hard work we've put in and the difference that our efforts have made for our classmates and local community members," says Craig Silverman '20, who won the Community Outreach Award for his work with the Bucknell Buddies after-school program.
Bucknell Buddies serves low-income families by providing weekly tutoring and recreational activities for children at two affordable housing sites in Lewisburg. Silverman signed up as a student volunteer during his first year, inspired by his own childhood experience attending after-school programs in his hometown of Reading, Pa.
When Bucknell Buddies was at risk of being suspended after losing its full-time staff director, the math and economics major stepped up to run the program as lead student coordinator — a role that required Silverman to plan outdoor activities, train volunteers and even drive Bucknell students to their buddies.
"I benefited so much from older students who took the time to mentor me. Being able to give to the Lewisburg area in the same way was incredibly important," Silverman says. "Being welcomed into these kids' communities and their homes, and encouraging their learning through homework or games, was really special."
Doing It All
Other students, like Allure Cooper '23 and Galaan Abdissa '21, were recognized for the breadth of their involvement on campus — from volunteering in the University's innovative labs to advancing humanities-focused projects.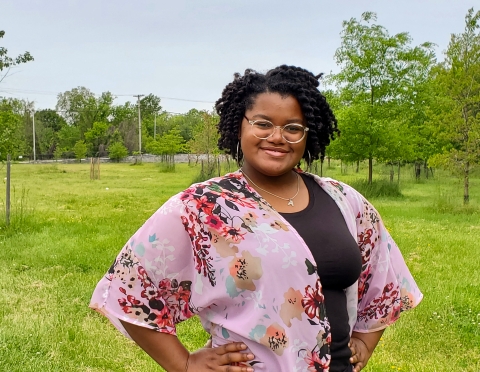 Cooper says she was grateful to receive the Class of 2023 Award of Excellence for her enthusiastic exploration of Bucknell outside the classroom. In just her first year, the undeclared arts & sciences major served as an equipment manager in the 7th Street Studio & Makerspace and spearheaded the creation of a new theatre club for students of color. As a research assistant in the theatre department, Cooper also worked to compile a catalog of onstage productions that shine a spotlight on marginalized groups.
"It was so hard to find plays that had adequate representation at the performing arts high school I went to," says Cooper, who attended the Baltimore School for the Arts before coming to Bucknell. "Helping students on this campus access art that represents them — whether they're a person of color, are LGBTQ, or have a disability — is really important to me."
For Abdissa, the opportunity to explore his interests through a myriad of cocurriculars is the main reason he wanted to attend a liberal arts school. The computer science major didn't want to feel boxed in by a rigid academic path "like I might have been at a larger, strictly research-focused university," he says.
"As a dynamic learner, I've always been passionate about gaining a diversity of experiences," says Abdissa, a Posse scholar from Los Angeles. "Bucknell stood out as a place where I could toss my hat in different rings without compromising my academics."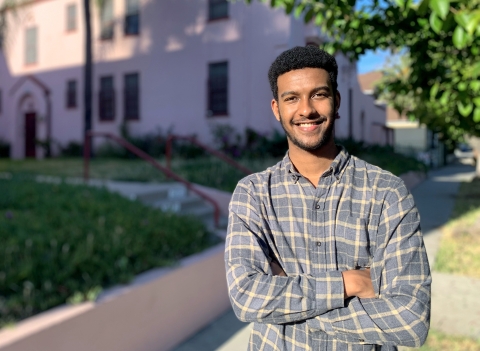 Over the past few years, he has worked as a photographer for Campus Activities & Programs, served as a senior assistant in the 7th Street makerspace, and managed marketing for Uptown, Bucknell's on-campus student event space. For his efforts to connect with his peers in each role, Abdissa received the Civility & Respect Award.
"It feels like a testimony to the relationships I've built and a reminder that what I'm doing is impacting others," he says. "I'm very blessed to have had amazing college experiences so far, and it can only go up from here when I return for my senior year."
Making a Difference
Faculty and staff also gathered via Zoom this spring to bestow the annual President's Diversity & Inclusion Awards and Burma-Bucknell Bowl Award. The former award recognizes students, faculty and staff who build and nurture an inclusive campus community, while the latter honors a University organization or community member who has made outstanding contributions to intercultural and international understanding.
Recipients of this year's awards include:
Student – Soni Madnani '20, political science, economics and Spanish
Student Organization – Feria Latina, a traditional Latinx festival
Faculty – Philip Asare, electrical & computer engineering
Staff – Rosalie Rodriguez, director of Multicultural Student Services
Collaborative Group Effort – Dayeinu! Beyond Survival There is Hope, a Holocaust education event produced by Emily Martin, music, and Rabbi Chana Leslie Glazer, Chaplain for the Jewish community
Office or Program – Teaching & Learning Center
Burma-Bucknell Bowl Award – Philip Asare, electrical & computer engineering