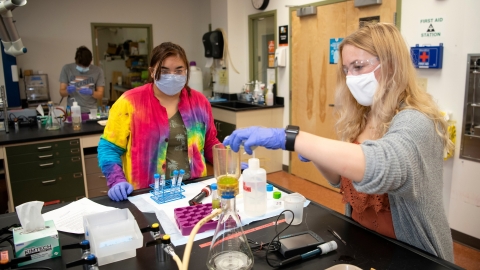 Guiding Their Future: New Mentorship Program Pairs First-year Engineering Majors With Students Who've Taken the Journey Before
September 23, 2020
One of the coolest learning experiences Megan Munter '21 is having at Bucknell isn't part of a class. 
Together with other members of Bucknell's Renewable Energy Scholars, Munter is using locally sourced recycled materials to build a solar bench where students will be able to charge their devices with 100% renewable energy as they relax or study outdoors. It's the perfect project to bring together Munter's passion for sustainability and the environment with the technical expertise she's gaining in her electrical engineering major. 
Munter's only regret is that she didn't know about the group earlier on; she only joined her junior year, with half her Bucknell experience already behind her. 
Not wanting others to miss out on similarly powerful experiences that suit their interests, Munter is now helping Bucknell's newest engineering majors immerse themselves in their education from the very beginning. She's doing so through a new program that brings those opportunities directly to first-year engineering students — one student to another.
Launched in 2020 and named for the late college benefactor Richard Garman '56, H'07, Garman Guides is a new peer mentoring program in Bucknell's College of Engineering that pairs all first-year engineering students with a mentor from the junior or senior class. The guides (including Munter) offer support for students in alliance with the college's Engineering 100 course, which is taken by every engineer and introduces first-year students to all eight engineering majors offered at Bucknell. Guides also meet regularly with their group of first-year students to introduce the near-limitless opportunities to take their education beyond the classroom at Bucknell — including through on- and off-campus internships, clubs and organizations, and undergraduate research — as well as to answer questions, foster a sense of belonging and share experiences from the perspective of those who've gone before. 
"Just talking with students who have been through this right before them is really helpful [for the first-year students]," says Munter, who is from Bethesda, Md. "It can be so embarrassing to ask about something basic, like where a building is on campus. We try to make it clear that we're open to any questions, that we went through the same stuff and that we can help them be more assured and confident in their journey."
Building Community
The program builds on the success of the Freeman Fellows, a peer mentoring program with similar aims launched in 2019 by the Freeman College of Management. All first-year engineering students take part in groups that aren't based on majors, meaning they get to meet and interact with students from across their class. 
"Right now we have a really strong community within majors — I feel that within chemical engineering, and I've talked about this with students from other majors as well," says Caitlyn Schuette '22, a guide and chemical engineering major from Lothian, Md. "One of the things I love about Garman Guides is that it isn't set up to be major-specific, so it's a great way for engineering students to meet people from other majors before things get more separated."
The social aspect of the program has been particularly valuable to Twity Gitonga '24, an international student from Nairobi, Kenya, who began her Bucknell journey remotely because the U.S. embassy in her country was closed due to COVID-19 and unable to process her student visa in time for the fall semester. Gitonga, a computer science & engineering major, says meeting with her guide and fellow first-year students has helped her cope as she studies online and awaits coming to campus in 2021. 
"Making friends is clearly not as easy because I'm not on campus," she says. "This has helped me to connect with other people, other engineers." 
It has also helped her get involved in the full Bucknell experience from the get-go, despite being thousands of miles from Lewisburg. After learning about it at a Garman Guides meeting, Gitonga has joined up with the Grand Challenges Scholars Program at Bucknell, an effort to change the world by taking on the National Academy of Engineering's 14 "Grand Challenges" for creating a more sustainable planet. 
Learning From Experience
Other first-year students add that the Garman Guides program has offered them insights and advice from the perspective of someone who was once in their shoes. Jackie Zak '24, a biomedical engineering major from Mountain Laurel, N.J., says she's turned to her guide with questions she'd be less comfortable asking a professor. 
"One time I asked how grades work here — I felt weird asking that to my professor because it's on the syllabus, but it's so different from high school," Zak says. "When it comes to little things like that, it's nice that you can ask someone who's already been through it."
Meanwhile Will Horan '24, a computer science & engineering major from Minersville, Pa., sought out his guide, Schuette, for questions about getting an early start on his post-Bucknell future.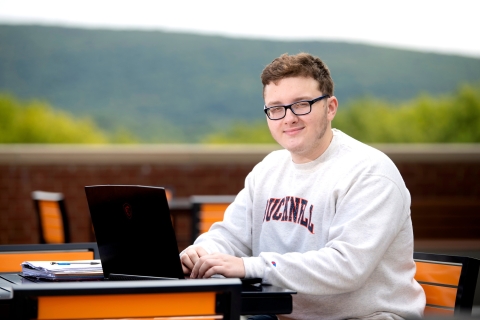 "I've just been asking a lot of questions about her experience, especially some of her internship experiences and where she sees people going for jobs," Horan says. Based on Schuette's advice, he's joined the Bison Finance Society and is exploring ways to add business expertise to Bucknell studies, perhaps through a minor in management. 
Sharing that advice simultaneously offers a valuable firsthand experience for the guides as well — one that's supplemented by leadership training and other professional development opportunities organized by the College of Engineering dean's office, which coordinates the program.
For Angela Pieroni '22, a guide and biomedical engineering major from Northbrook, Ill., her group of about 10 students is the largest she's ever led, and mentoring them has helped her build presentation and team-management experience to bring to her post-Bucknell career. Leading the first-year students has been an experiential learning opportunity itself, she says. 
"I'm excited for the opportunity to work on my leadership skills, and at the same time help these first-year students out," she says.