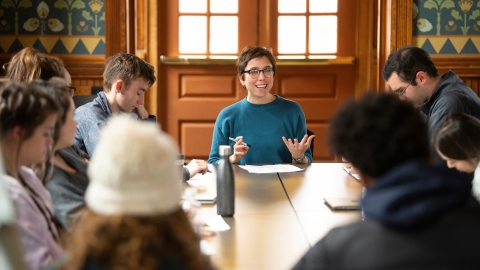 Five Reasons Bucknell Is a Top Liberal Arts College
April 15, 2020
You'll likely come across a number of liberal arts schools in your search for the right college. The term "liberal arts" doesn't mean that a college only offers programs in the arts or humanities. At Bucknell University, it means preparing you to be a successful learner, thinker and leader in an ever-changing world — whether you decide to major in chemical engineering, business analytics or theatre. 
How? By creating an environment where you can explore, combine and pursue interests in meaningful ways.
Here are five things that make Bucknell a stand-out liberal arts college:
1. Limitless Learning
Bucknell offers top-ranked liberal arts, engineering and management programs in three distinct colleges: Arts & Sciences, Engineering and the Freeman College of Management. 
With more than 60 majors and 70 minors across all three colleges — more than most liberal arts universities — we equip students to be innovators in whatever field they choose. 
Bucknell's College of Arts & Sciences features one of the largest and most diverse offerings of academic programs among liberal arts schools, from neuroscience and astronomy to art history and music. At our nationally ranked College of Engineering, we give students the tools to design and innovate starting their first year, under the close mentorship of world-class faculty. Those looking to start careers in business get hands-on experience in the Freeman College of Management, where students create and run their own companies in first-year management courses.
But declaring a major in one college doesn't limit the kinds of classes you can take at Bucknell. Most of our academic programs include courses that are open to students from all majors. 
Join the choir as an accounting major, use computer engineering to decode an ancient language or take management classes as an engineer. At Bucknell, you have the flexibility to explore and expand your interests.
2. Undergraduate Research
As a liberal arts university, we put undergraduates first. That means our students don't wait to get their hands on the tools they need to make groundbreaking discoveries. We give you the resources to start doing graduate-level research even before the first day of classes.
Our broad array of undergraduate research programs provides students in all disciplines with the opportunity to conduct independent or faculty-guided projects, starting the summer before their first semester and continuing all four years. 
The Bucknell Program for Undergraduate Research awards stipends up to $4,000 and secures on-campus housing for students interested in pursuing research or creative work over the summer. Those looking for a significant, long-term experience can apply for a Presidential Fellowship, which pairs students with faculty on a four-year-long project that aligns with the student's interests.
Bucknell student researchers have:
Found evidence of harmful chemicals in e-cigarettes.

Studied prison reform inside a local penitentiary.

Developed a robot for hospitals that delivers basic items to patients.

Explored a more effective way to recycle K-Cups.
3. Real-world Experience
Gaining an expansive understanding of the world is central to a great liberal arts education. At Bucknell, we believe that kind of holistic learning not only happens in the classroom but also on the ground through real-world experiences that place students in the fields they're passionate about. That's why we offer numerous immersive learning and working opportunities both at home and abroad.
Bucknellians who are still discovering their path can participate in an "externship," a one- to two-day job-shadowing program that gives students a first-hand look at careers that interest them.
When you're ready to gain hands-on experience, our Center for Career Advancement will help you connect with internship opportunities in a variety of industries — from Wall Street and Capitol Hill to Bucknell's own historic Campus Theatre in Lewisburg, Pa.
And with study abroad programs in countries across six continents, you can take learning even further. Bucknell offers semester-long programs in China, England, France, Ghana and Spain, as well as weeklong and summer programs in countries across the globe. If you choose to study abroad, you'll be among the 50% of Bucknellians who do so, including students from all three colleges.
4. A Tight-knit Community
With 3,600 undergraduate students, Bucknell is the ideal size for a liberal arts college — large enough to offer a wide range of resources and extracurriculars, but small enough to form strong relationships with peers and faculty. 
Our 9:1 student-to-faculty ratio ensures that you get the time, attention and support you need from professors. Plus, every course is taught by a member of our distinguished, world-class faculty — not TAs or graduate students. 
As a living-learning community, Bucknell also ensures that you'll find opportunities to connect with other students who share your creative and intellectual passions. Our Residential Colleges bring first-year students who share a common interest together to learn in an immersive community. You'll live in the same hall and learn side-by-side in a common fall semester seminar on topics ranging from food to technology.
And when it comes to finding mentors for your college journey, our alumni network of more than 54,000 is there to lend support, guidance and development opportunities.
5. A Beautiful Campus
Look at a photo of Bucknell in any season and you'll see a gorgeous setting for living, learning and exploring. In fact, The Princeton Review — which ranks universities based on student surveys — called Bucknell one of the country's 10 "most beautiful campuses." 
Located in the heart of Pennsylvania, Bucknell is a great college for students who seek outdoor adventure. Our backyard is home to the scenic Susquehanna River (the longest river on the East Coast), eight nearby state parks and thousands of miles of hiking and biking trails.
As college towns go, it's hard to imagine a more idyllic place than Lewisburg, Pa. In this historic town just steps away from campus, you'll find boutiques, restaurants and Bucknell's own three-story downtown bookstore. And an ever-changing calendar of local festivals and special events ensures you'll never run out of fun things to do.