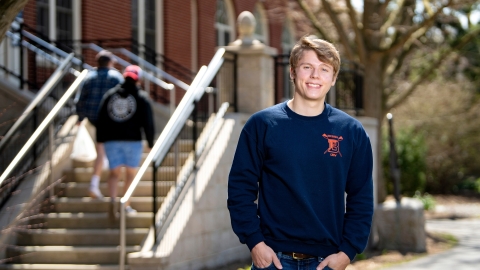 Bucknellians Awarded Record Seven NSF Graduate Research Fellowship Grants
May 3, 2022
The National Science Foundation awarded an institution record seven Bucknell University students and graduates prestigious Graduate Research Fellowship Program (NSF GRFP) grants to conduct graduate research in the sciences and engineering. Three additional Bucknellians earned program honorable mentions.
Adriana DiSilvestro '18, environmental studies; Cheyenne McKinley '20, biology; Marisa Morakis '20, biomedical engineering; Philip Onffroy '22, chemical engineering; Nathan Ortiz '19, mechanical engineering; Christina Pierson '20, chemistry; and Savannah Weaver '20, psychology; are award recipients. Steven Allison '14, chemistry, Brenna Prevelige '20, biology; and Kyle Fouke '20, geology, are Bucknell's honorable mentions.
The purpose of the NSF GRFP is to promote the quality, vitality and diversity of the scientific and engineering workforce of the United States. The program recognizes and supports outstanding graduate students who are pursuing full-time, research-based master's and doctoral degrees in science, technology, engineering and mathematics (STEM) fields, STEM education, psychology or the social sciences.
The five-year fellowship includes three years of financial support including an annual stipend of $34,000 and a cost of education allowance of $12,000 to the institution.
Bucknell's seven NSF GRFP awards this year puts the University at the top of its official peer group of institutions, matching William & Mary and surpassing all others, including Dartmouth, Colgate, Davidson and Middlebury.
"Bucknell's performance has improved markedly in the NSF GRFP contest recently, from an average of just over three winners from 2016 to 2020, to four last year and seven this year," says Margaret Marr, director for undergraduate fellowships and research. This is due, in large part, to the many outstanding mentored research experiences our students enjoy, often starting early in their college careers. These hands-on research experiences both inspire interest in careers in research and prepare students for graduate school. We are delighted to see our students recognized for their excellent work and the promise it demonstrates."
Onffroy, the only current Bucknell undergraduate among the awardees, was also named a Goldwater Scholar last spring by the Barry Goldwater Scholarship and Excellence in Education Foundation.
"My research over the past four years has focused on polymer processing and sustainable bioplastics, most recently the development of biopolymer foam alternatives to petroleum-based foams like Styrofoam," Onffroy says. "Bucknell's emphasis on providing undergraduate research opportunities has enabled me to present at seven different research conferences and publish in professional journals. I am extremely appreciative of the support of Bucknell's chemical engineering department and my faculty mentors, especially my research advisor Professor Kat Wakabayashi, as they have helped me shape my future aspirations toward leading novel R&D innovations in renewable materials."
With the financial assistance from his NSF GRFP award, Onffroy intends to pursue a Ph.D. in chemical engineering from Stanford University following graduation this spring. He will continue his focus on sustainable polymers research.
In addition to Onffroy, other NSF GRFP recipients who have not yet started graduate school but have accepted admission include McKinley to the University of California, Santa Barbara in ecology, evolution and marine biology; and Prevelige to Oregon State University in integrative biology.
All of the recipients use the financial support from their awards in the graduate schools of their choice.