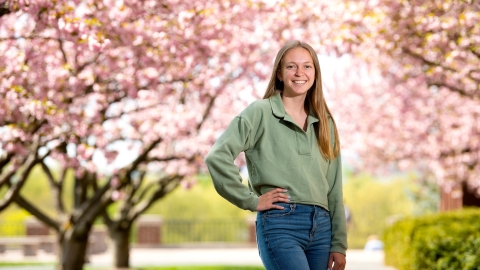 Meet Bucknell's Newest National Science Foundation Fellows and Goldwater Scholars
May 9, 2023
Eight Bucknellians have been awarded two of the most prestigious fellowships and scholarships in higher education: National Science Foundation (NSF) Graduate Research Fellowships and Barry Goldwater Scholarships. These nationally competitive awards are presented to emerging research leaders who demonstrate intellectual curiosity and tenacity in their pursuit of scientific discovery — and have the potential of making significant contributions in their fields of study.
NSF Graduate Research Fellows
As the oldest graduate fellowship of its kind, the NSF program supports outstanding students who are pursuing research-based master's or doctoral degrees in NSF-supported STEM disciplines.
Minhaj Bhuiyan '23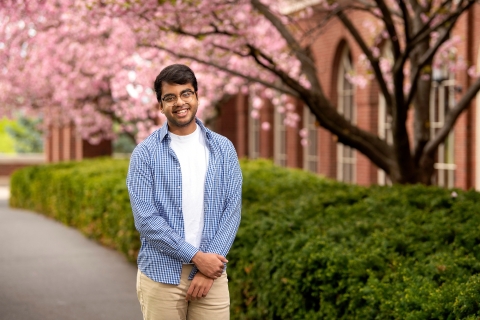 Bhuiyan, a biomedical engineering major from Camp Hill, Pa., hopes to one day lead a research team focused on developing regenerative therapies for people who experience muscle injuries and disorders.
At Bucknell, Bhuiyan laid a foundation to support that career goal. Since 2020, Bhuiyan has been working with Professor Benjamin Wheatley, mechanical engineering, to study the mechanical properties of skeletal muscle. As part of Wheatley's Mechanics and Modeling of Orthopedic Tissue Lab, Bhuiyan worked to better understand skeletal muscle stiffness with the goal of informing treatments for muscle-related disorders. Bhuiyan's lab experience helped him secure a competitive internship in 2022 with the National Institutes of Health, where he examined immune system response to the implantation of biomaterial skeletal muscle.
"I have been lucky to create really impactful relationships with professors — both in my department and across campus — who have helped me discover opportunities," he says.
After graduation, Bhuiyan will begin a Ph.D. program in biomedical engineering at Duke University, where he will explore the intersection of biomaterials and tissue engineering to advance the science of tissue regeneration.
Lydia Naughton '21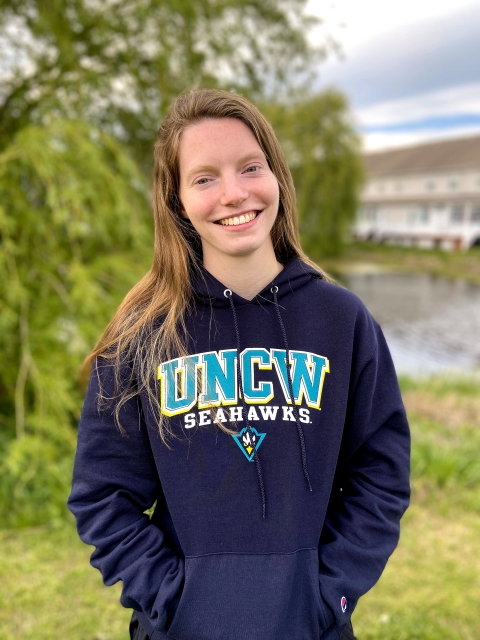 Naughton, a neuroscience major, discovered an interest in sensory neurobiology at Bucknell, where she conducted research supporting two distinct projects: exploring the complex olfactory system of ants, and examining how fluoroquinolone antibiotics can impact vagus nerve circuits, which control bodily functions like digestion and heart rate.
These research experiences propelled Naughton to pursue her doctorate in integrative, comparative and marine biology at the University of North Carolina Wilmington. The Phoenix, Md., native is currently researching the sensory mechanisms behind color change and camouflage with a particular focus on the Caribbean hogfish. Naughton's ultimate goal is to become a university professor so she can teach and mentor students while continuing to conduct research.
"I owe an incredible debt of gratitude to my Bucknell mentors, professors and colleagues," she says. "I am grateful I had opportunities to gain personalized, hands-on training through research experiences."
Patricia Poley '23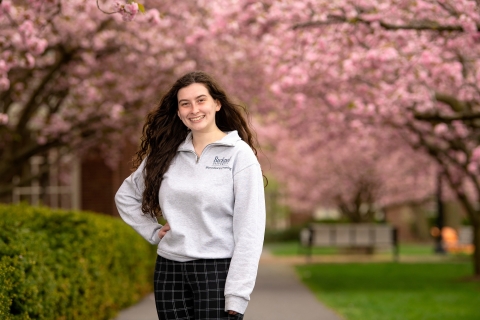 Poley, a biomedical engineering major from Norristown, Pa., wants to find creative solutions to today's medical problems. She's particularly interested in exploring opportunities to improve therapeutics for under-resourced communities.
"Ultimately, I want to end up working as an R&D engineer or scientist at a pharmaceutical company, where I can continue doing research and developing systems to help people who typically lack access to life-saving medications," she says.
Poley plans to pursue a Ph.D. in biomedical engineering at Vanderbilt University where she will study biomaterials and their role in pharmaceuticals. Poley's interest in the field began with her acceptance into an NSF-funded undergraduate research fellowship in 2021 at Rowan University, where she conducted ocular drug delivery research. Her interest in research was nurtured further by Professor Brandon Vogel, chemical engineering, whose lab is focused on synthesizing new biomaterials for drug delivery purposes.
"I am extremely appreciative of the Bucknell community, especially those in the biomedical engineering department and my research adviser, Dr. Vogel," she says. "They helped shape me into the future researcher I hope to be."
Emily Sharp '21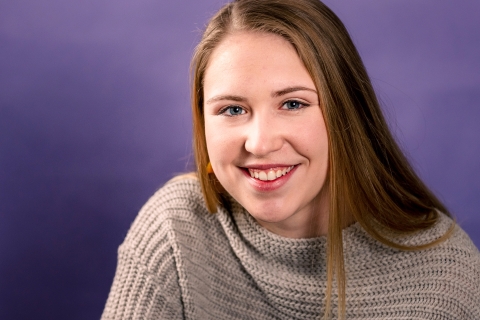 Sharp had the opportunity to jump into a research lab weeks before she began classes as a first-year student, thanks to Bucknell's STEM Scholars program, which gives incoming students a chance to participate in collegiate research as an early transition to college life.
"Being a STEM Scholar was incredibly pivotal to my trajectory," says Sharp, a biomedical engineering major from Uniontown, Pa. The experience gave Sharp the confidence to pursue additional experiential learning opportunities at Bucknell, including conducting material science research designing innovative nanofiber materials.
Now, as a Ph.D. student at the University of Pennsylvania, Sharp is investigating biomaterial-based approaches for the repair and regeneration of orthopedic tissues. She hopes that her passion for research, teaching and mentorship — which all coalesced at Bucknell — will lead to a career in academia. "The unwavering support I received from my research advisers and the biomedical engineering department as a whole taught me the skills I needed to excel and instilled confidence in my abilities," she says.
The NSF awarded honorable mentions to Brenna Prevelige '20, a biology major currently studying integrative biology at Oregon State University; and Lourenco Martins '21, a biology major currently studying integrative biology at the University of California Berkeley.
Barry Goldwater Scholars
Goldwater Scholarships are awarded to second or third-year students who are planning research careers in mathematics, the natural sciences or engineering. These four Bucknellians are among 413 students selected from more than 5,000 students nominated by 427 academic institutions in 2023.
Ally Clarke '24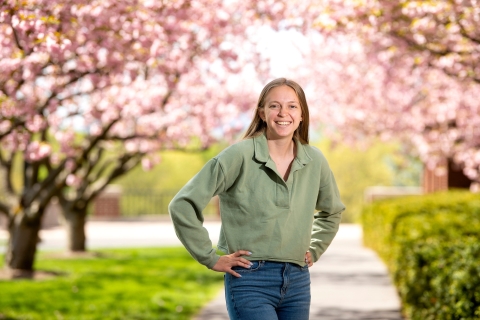 As part of the Mechanics and Modeling of Orthopedic Tissue (MMOT) lab led by Professor Benjamin Wheatley, mechanical engineering, Clarke is researching muscle fatigue using electrical activity data. She and Wheatley are collaborating on a paper to report their findings, which they hope to submit for publication.
"In my time with the MMOT lab, I've developed an excitement for studying biomechanics — not only by working on my own research project but also being exposed to the work of others," says the biomedical engineering major from Malvern, Pa. "I've learned so much because it's such a collaborative environment."
Clarke's time in the lab has given her a sense of the wide range of possibilities available to her. "My research lies at the intersection of clinical and scientific research, giving me a lot of options to explore in the future," she says. "I'm interested in either pursuing an M.D., Ph.D., or even an M.D.-Ph.D."
Bret Hatzinger '24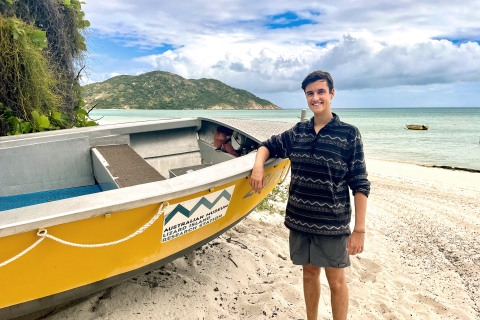 When news broke of the 2023 Goldwater winners, Hatzinger was on an island 20 miles off the coast of Australia — he spent the spring semester studying rainforest ecology in the Wet Tropics bioregion and fish cognition at Lizard Island Research Station, a world-renowned research and education center on the Great Barrier Reef.
After his semester abroad concludes, the biology major from Doylestown, Pa., will head to Dallas, where he will spend the summer conducting genomic medicine research at UT Southwestern Medical Center. After that, he'll return to Lewisburg and resume his campus research project: He's working to quantify the capacity of atmospheric aerosols to take up water to form clouds. That data, he says, could help improve models of climate and climate change.
"I'm passionate about a career in research with the goal of improving human health — either in toxicology, researching the health impacts of air pollution to inform better public health policy for future generations, or in genomic biomedical research so that I can contribute to a future of personalized medicine through the application of genetic insights," he says. "Bucknell has been essential in helping me achieve my goals. I count myself extremely lucky to be in an environment where both faculty and peers are so supportive."
Duncan Hill '24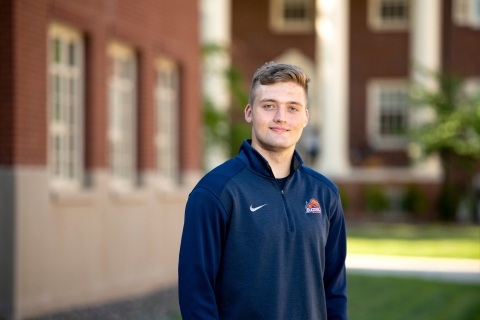 Hill, a chemical engineering major from Clifton Park, N.Y., says his undergraduate research experience at Bucknell has provided him with a clear direction for his future.
"The departmental emphasis on research is what led to me discovering that I wanted to pursue polymer research as a career," he says. "I'd like to earn a Ph.D. and perform research for a national laboratory."
Currently, Hill is using light scattering to evaluate the mesh size of polymer gels. His goal is to improve the effectiveness of gel-based polymer drug-delivery patches. This summer, he will continue his study of polymer dynamics as part of a selective undergraduate research experience program at the University of Minnesota.
Hill credits his Bucknell mentors for helping him achieve his goals, including receiving a Goldwater award. "Bucknell has a well-developed support system led by Margaret Marr [director of undergraduate fellowship research] that helped me prepare my application materials," he says. "Additionally, amazing professors, including Professor Wendelin Wright [engineering] and Professor Kenny Mineart [chemical engineering], have helped me improve my ability to communicate complex scientific concepts."
Ethan McNamara '24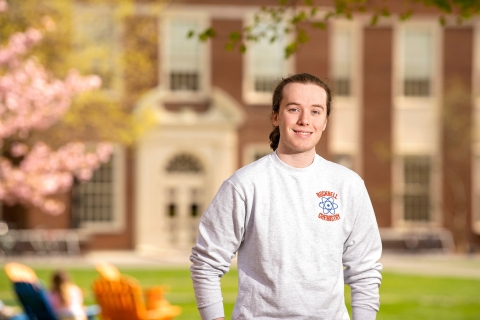 McNamara, a chemistry major from Groton, Mass., says he is grateful he has had the opportunity to spend the past two summers at Bucknell fully focusing on his biochemistry research.
Since 2021, McNamara has been investigating metal-binding peptides with the goal of being able to advance disease diagnostics and develop novel therapeutics. Peptides, or small pieces of proteins, have shown promise in disrupting harmful interactions within cells that can lead to diseases such as cancer. By binding metal to peptides, chemists like McNamara can further control their structure, allowing peptides to better target these specific cancer-causing binding sites.
McNamara is passionate about his research and plans to pursue an M.D./Ph.D. dual degree in either biochemistry or cancer biology. His long-term goal is to become a biomedical researcher at a teaching hospital.
"Through Bucknell, I have developed many meaningful relationships with professors who have advocated for and supported me unconditionally throughout my professional endeavors," he says. "In the chemistry department, I have access to cutting-edge instruments and tools to be able to do the science that interests me and can make a difference."
Former NSF Fellow, Goldwater Scholar Honored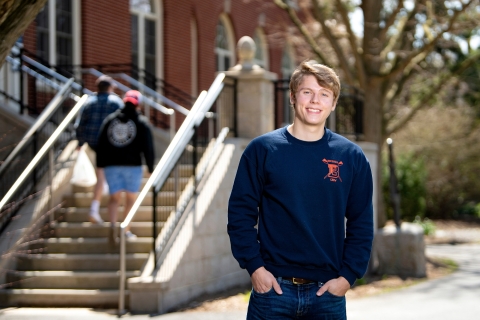 Philip Onffroy '22, who received a Goldwater Scholarship in 2021, and was named an NSF fellow in 2022, recently was awarded a Knight-Hennessy Scholarship by Stanford University. Knight-Hennessy Scholarships recognize Stanford graduate students who are considered emerging leaders in their fields. Scholars receive a three-year fellowship during which time they participate in programming that prepares them to be "visionary, courageous and collaborative leaders who address complex challenges facing the world."
Onffroy is currently pursuing his Ph.D. in chemical engineering at Stanford, where he is focusing on sustainable polymer production and the development of optimized batteries for long-term renewable energy storage that could be used for wind and solar power generation. His ultimate goal is to become a global leader in the fight against climate change.
"I aspire to become the CEO of a company that pioneers affordable advancements in sustainable bioplastics and renewably-sourced energy to combat the hold that petroleum has on both the plastics and energy industries," says Onffroy, who is from Shrewbury, Mass.
"I was only competitive for this scholarship due to the fantastic opportunities that Bucknell provided me," he says. "I learned how to be an ethical and diligent engineer through my engaging and hands-on coursework. My work in Professor Kat Wakabayashi's [chemical engineering] laboratory for advanced manufacturing of polymeric systems taught me how to be an effective laboratory researcher. In general, Bucknell cultivates an environment that prepares students to understand the content they are learning in the classroom and then be socially adept at describing the work in an accessible and engaging manner."