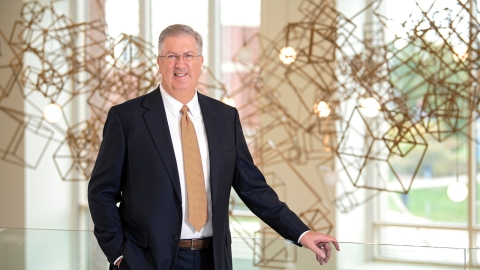 Bucknell President John C. Bravman and Board of Trustees Agree to Contract Extension
October 21, 2022
The Bucknell University Board of Trustees unanimously voted on Friday, Oct. 21, to extend President John C. Bravman's contract through at least 2028. This is Bravman's second contract extension; in April 2018, the Board unanimously voted to extend his contract through June 2025. Bravman became the University's 17th president on July 1, 2010, after a long career at Stanford University, and by the end of his current contract will have the third-longest tenure among Bucknell presidents.
"The length of John's tenure reflects the confidence and trust the Board of Trustees has in him to continue his exceptional leadership of the University," says Bucknell University Board Chair Chris O'Brien '80, P'18, P'20. "On behalf of the Board and Bucknellians everywhere, I am honored to announce the extension of John's contract, and I want to take this opportunity to thank him for his leadership, his vision for the University, and his commitment to providing our students a truly life-changing educational experience."
"It is truly an honor and privilege to continue serving Bucknell as its president, and I am thankful for both the Board's continued confidence in me and the extraordinarily talented students, faculty and staff who make this such a special place," Bravman says. "I look forward to working with both the Board and the campus community on our strategic goals, which will further strengthen Bucknell's place among leaders in higher education."
Historic Achievements
During Bravman's tenure, Bucknell has marked some of the most significant achievements in its 176-year history. His contract extension follows two record-breaking years in student enrollment, as well as leading the University's successful efforts to remain open and ensure the continued delivery of in-person instruction throughout the COVID-19 pandemic.
Bravman has prioritized the University's efforts to strengthen the campus culture, and deepened its commitment to providing students with an exceptional academic experience that leads to a lifetime of personal and professional success. In 2018, he championed The Plan for Bucknell 2025, the University's first strategic plan in 13 years. In support of Bucknell's continued diversity, equity and inclusion goals, this year Bravman created the position of vice president for equity & inclusive excellence, who will lead the new Office for Equity & Inclusive Excellence.
Bravman guided Bucknell to the successful conclusion of its most ambitious fundraising campaign to date — the $500 million WE DO Campaign — on July 1, 2017. The University surpassed the half-billion-dollar goal with $513 million raised. Bravman has now presided over the two largest philanthropic pledges made in school history — a $40 million pledge by Michael Pascucci '58, P'81, P'87, G'21, G'22 in August 2021, and a $30 million pledge by Bob '45 and Doris Malesardi in May 2016. Both pledges provided resources to support unrestricted, need-based financial aid endowment.
On the same day the University concluded the WE DO Campaign, it officially established its third college — the Freeman College of Management — positioning Bucknell to build upon its distinctive combination of academic breadth in a highly personalized undergraduate living-learning environment.
A Campus Transformed
Bravman has strengthened Bucknell's renowned commitment to providing an exceptional residential learning experience through numerous improvements to the University's physical campus, including the construction or renovation of a number of academic, athletics and student life facilities, including:
Academic West, built as a home for the social sciences;
South Campus Apartments, comprising four new residence halls and MacDonald Commons;
The Graham Building, constructed to house Bucknell Student Health, the Counseling & Student Development Center, and a state-of-the-art wrestling facility;
The Carnegie Building, renovated to centralize student and faculty support offices;
Hildreth-Mirza Hall, renovated and reimagined as the home of University's Humanities Center, the Griot Institute for the Study of Black Lives & Cultures, and the Bucknell University Press;
Academic East, new construction that expands space for the College of Engineering and the Department of Education;
Holmes Hall, the University's newest academic facility and home to the Freeman College of Management and the Department of Art & Art History, which opened in summer 2021; and
A 1.76 peak megawatt solar array near the 12th fairway of the Bucknell Golf Club.
Four new Bucknell West apartment-style residence halls are scheduled to open by August 2024, and the Michael C. Pascucci Team Center will begin construction next year.
Town-Gown Commitment
Throughout Bravman's tenure, Bucknell has continued to strengthen its ties with the region. The University has renovated several properties in downtown Lewisburg, including the Campus Theatre, the Post Office Building and the DeWitt Building, which is now home to the University's Entrepreneurs Incubator, Small Business Development Center and the Samek Art Museum's Downtown Gallery.
Bravman was appointed to the Geisinger Health Board of Directors in September 2012 and has served as chairman of the board since December 2016. He was named in this year's class of Modern Healthcare's "Excellence in Governance" award honorees.
Bravman grew up in New York City and on Long Island. He completed his bachelor's, master's and doctoral degrees in materials science and engineering at Stanford University, has published more than 160 peer-reviewed articles, and has been cited in nearly 5,000 publications by scientists and engineers around the world. He is a tenured professor of electrical engineering at Bucknell.
Bravman is married to Professor Wendelin Wright, who holds the Heinemann Family Professorship in Engineering in the mechanical and chemical engineering departments at Bucknell. She has served the University in a number of capacities and is currently the chair of the mechanical engineering department. She is especially committed to junior faculty mentorship and to working with students seeking graduate school admissions. They have two young sons, Cole and Cooper. Bravman has two older sons, Christopher and Matthew, and two grandchildren.