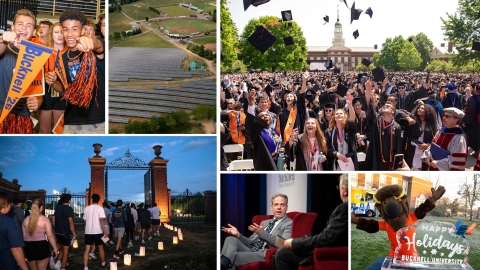 Celebrating a Year of Accomplishments
December 7, 2022
As the countdown to 2023 begins, the Bucknell community is reflecting on the noteworthy news and incredible work that's made 2022 a remarkable year.
The University set a new enrollment record, took a meaningful step to expand access, and added new programs, people and infrastructure that continue to define Bucknell as an institution of excellence. Together, the Bucknell community is driving growth and innovation to create opportunities that will support the University's strategic planning to benefit future generations of students, faculty, staff and community members.
The advances made and challenges surmounted in 2022 position Bucknell for even greater success in the years ahead. Here's a look back at some of our proudest accomplishments in a year defined by excellence.
1. Expanding Access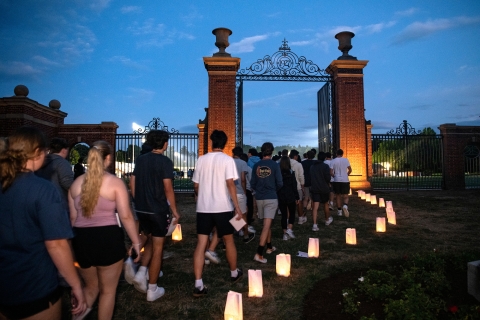 To help the best and brightest afford a Bucknell education — regardless of financial background — Bucknell announced its new Gateway Scholars Program, which meets the full demonstrated need of 20 first-generation students, eliminating federal loans from their aid packages. The program provides more than just financial aid. Each scholarship recipient will benefit from ongoing outreach, mentorship and guidance to support their success.
2. Growing Enrollment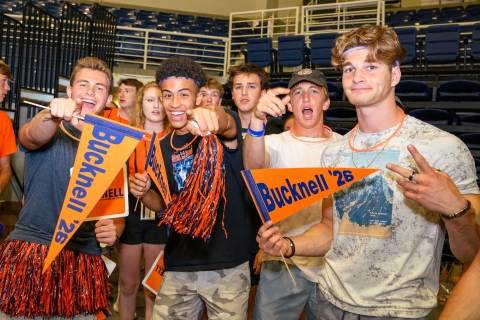 For the second-consecutive year, Bucknell welcomed its largest incoming class in history, with 1,039 new students in the Class of 2026. They were selected from a record-setting applicant pool of 11,708, and come from 37 states, the District of Columbia and 24 countries and administrative regions, and carry an impressive average high school GPA of 3.63. It isn't merely exceptional grades or scholarly accolades that make this group of students stand above the rest. Among this uniquely talented group are nine business developers, five Eagle Scouts, two Gold Award earning Girl Scouts, five published authors, two black belts, an award-winning birdwatcher and a professional kart driver.
3. Hosting Double Commencements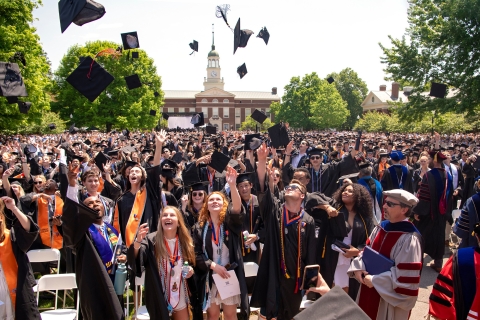 During a Commencement weekend like no other, Bucknell celebrated two classes of graduates in back-to-back ceremonies. Members of the Class of 2020 returned to campus for recognition on May 21, two years after their in-person ceremony was canceled due to the pandemic. The Class of 2022 celebrated the rite of Commencement on May 22.
4. Sparking Important Conversations
The Bucknell Forum speaker series returned, bringing national leaders to campus to examine "The State of American Democracy" from diverse viewpoints and foster a culture of free and vigorous debate on campus. The 2022-23 series began with former Secretary of State Condoleezza Rice, followed by political journalist Jake Tapper. It continues in 2023 with former Republican governor of Ohio John Kasich, political adviser David Axelrod, and scholar and best-selling author Barbara F. Walter '86.
5. Marking a Management Milestone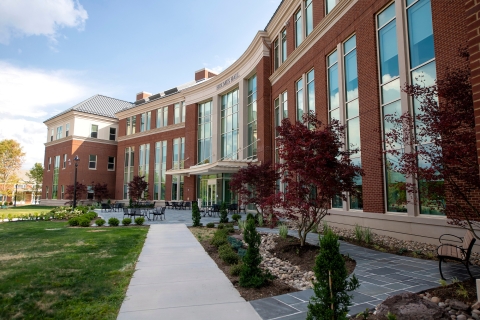 July 1 marked the fifth anniversary of Bucknell's Freeman College of Management, which has rapidly ascended the ranks of top-rated undergraduate business schools in the nation. Top faculty, expanded educational offerings and the reimagining of the college's already strong finance and accounting curriculum have placed the Freeman College at the vanguard of innovation in management education.
6. Enhancing Campus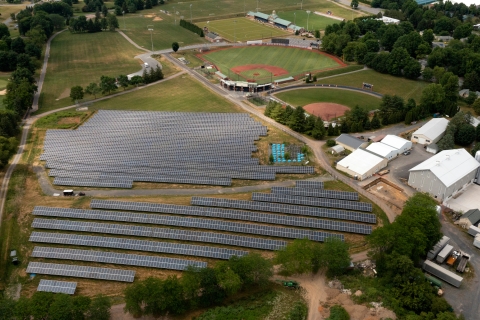 Bucknell took a step closer to achieving its goal of carbon neutrality by 2030 with the addition of a 1.76-peak megawatt solar array on campus. The array will supply up to 7% of the University's electricity and will enhance opportunities for renewable-energy-focused teaching and research across multiple disciplines.
In 2022, Bucknell also constructed a new practice turf field, thanks to the extraordinary generosity of Michael Pascucci '58, P'81, P'87, G'21, G'22. In 2021, Pascucci pledged $40 million, the largest single gift in Bucknell history, with $30 million for an unrestricted financial aid endowment and $10 million for enhancements in and around Christy Mathewson-Memorial Stadium.
To upgrade students' residential living experience, Bucknell unveiled plans to replace a dated housing complex known as "the Mods" with four modern apartment-style residence halls. The new buildings, which will be constructed in 2023 and 2024, will include outdoor recreation spaces for social activities and a geothermal heating and cooling system to advance the University's sustainability goals.
The completion of a new 4-mile multiuse path along the perimeter of Bucknell's campus provides students, faculty and staff with a safe way to traverse the grounds where they live, study and work. The pedway connects the main campus to the athletics field across Route 15 enhancing transportation and safety while also providing opportunities to connect with nature.
The Class of 2022 gifted Bucknell a powered pergola space that not only provides a peaceful outdoor study environment but also a place for reflection and connection. The pergola features a plaque reading "In celebration of LGBTQ+ Bucknellians past, present and future" as a mark of solidarity with the LGBTQ+ community.
7. Securing Strong Leadership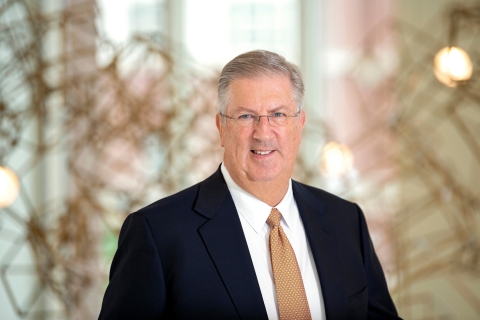 As a testament to his exceptional leadership, Bucknell's Board of Trustees unanimously voted to extend President John C. Bravman's contract through at least 2028. By the end of his current contract, he will have the third-longest tenure among Bucknell presidents.
Three new senior leaders joined the Bucknell community in 2022, bringing extensive experience and creative energy to their roles. Veteran law enforcement leader Anthony Morgan became Bucknell's chief of public safety and is introducing new initiatives to improve community relations. The new Richard E. Garman Dean of the College of Engineering Brad Putman brings a passion for building a superior student experience to his role overseeing Bucknell's nationally ranked engineering school. Nicole Whitehead, a proven and strategic educational and diversity, equity and inclusion leader, became Bucknell's new vice president for human resources.
8. Advancing Bucknell's Reputation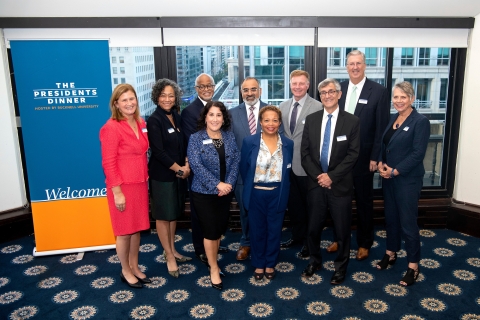 Following two years of virtual gathering, Bucknell's Presidents Dinner returned to the famed National Press Club in Washington, D.C., for an in-person discussion of the critical issues facing higher education. President John Bravman hosts the event, which brings presidents from prestigious, private institutions together with members of the national news media. Since its inception in 2018, The Presidents Dinner has raised Bucknell's profile and enhanced Bravman's reputation as a thought leader.
9. Valuing Employees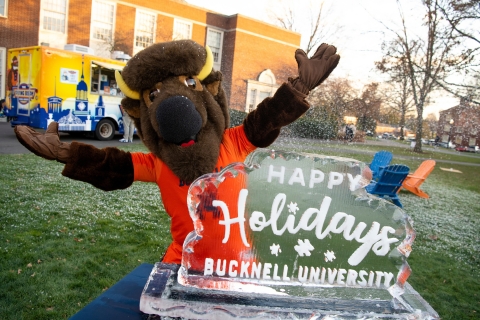 It's a top priority for Bucknell to be a premier employer in the region. To advance that goal, President John Bravman announced that the University calendar would permanently include a two-week winter break in mid-December through New Year's Day. Additionally, Bravman extended the University's 2022 Thanksgiving break as a pilot program.
10. Making a Positive Impact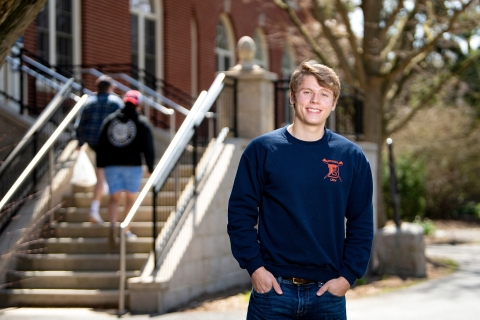 In 2022, a number of Bucknellians received prestigious research grants, honoring their impressive scholarship and contributions to the scientific community. The National Science Foundation awarded an institution-record seven University students and graduates Graduate Research Fellowship Program grants to conduct graduate research in the sciences and engineering. Bucknell's seven awards this year puts the University at the top of its official peer group of institutions. Three Bucknell students received competitive Goldwater Scholarships, which recognize undergraduates who show exceptional promise of becoming America's next generation of research leaders in the natural sciences, engineering and math. Having three Goldwater Scholars put Bucknell on par with some of the top research institutions in the country, including Harvard, Yale and Cornell.
When Russia invaded Ukraine, a group of international archivists recognized that Ukraine's digital history was also under threat. Bucknell social sciences librarian Carrie Pirmann joined a collective effort of some 1,300 archivists who worked to back up Ukraine's digital archives. As part of the Saving Ukrainian Cultural Heritage Online project, Pirmann put her librarian skills to use to preserve important pieces of history.